When analyzing whether or not any exercise is "good," the real question is "good as compared to what?" In the case of boxing, this vigorous and impactful workout can get you into shape rapidly. However, it carries an intensity, violence and risk of injury that make it a poor choice for some people. Whether it's a good fit for you will depend on your own priorities, tastes and limitations.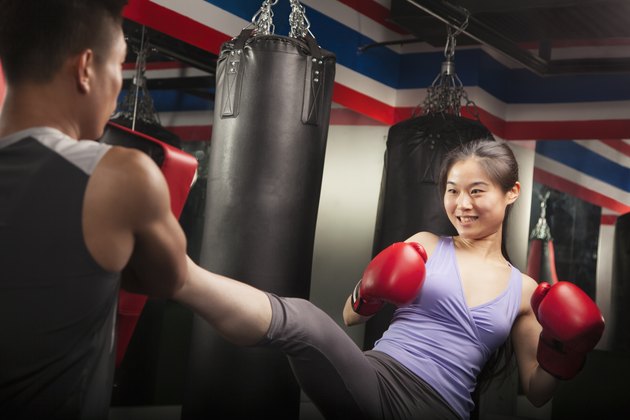 Calories Burned
If your primary workout goal is to lose weight, how many calories an exercise burns is an important consideration. According to fitness resource website Nutristrategy.com, a 155-lb. boxer will burn between 420 and 650 calories in a 60-minute boxing workout, depending on the exact activities in a given session. By comparison, this is more calories than you would burn lifting weights, dancing or doing low-impact aerobics weighing 155 lbs. It's relative to the burn of moderate jogging, rowing or high impact aerobics. Cross-country skiing, cycle racing and fast jogging all burn more calories in a comparative amount of time.
Resistance Workout
Actual competitive boxing doesn't include much of a resistance workout. However, the training and practice sessions inherent in boxing training include work with weights, calisthenics and bag drills that build muscle and strength. Although a boxer's training session will work nearly every muscle in the body, it focuses on the muscles of the upper arms, core, chest, hips and calves. It's not as focused on bulk as powerlifting, but will build muscle faster than cardiovascular workouts, like running or cycling.
Cardiovascular Exercise
Boxers are said to win their matches on the road, not in the ring -- an expression meant to illustrate how important cardio is to a boxer's success. A typical training session will include a vigorous cardiovascular workout. In addition, competitive boxers are encouraged -- or ordered -- by their coaches to perform supplemental cardiovascular workouts, such as jogging, cycling or swimming. This "road work" happens between sessions of training. As with resistance training, boxing won't give you as good a cardio workout as dedicated cardio exercises, but provides more than simple resistance training like lifting weights.
Impact
High-impact exercises have the potential for aggressive physical gains at the cost of increased risk of injury. Low-impact exercises are the opposite, carrying less chance of injury but developing physical attributes more slowly. Boxing combines vigorous training methods that, if you're so inclined to spar with a human opponent instead of your bag, will result in actual and repeated violent impact from other boxers. High-impact workouts like boxing are best for athletic, physically able individuals. People with injuries, or those looking to get into shape, may want to first consider a lower-impact workout to get ready for boxing.
Bottom Line
Boxing is a reasonably good full-body workout. It covers all body areas and provides a useful balance between cardio and resistance training. However, it's not specialized enough to serve somebody with cardio or resistance as the only workout goal. It's also not suitable for people who are physically or mentally unable to cope with being hit.