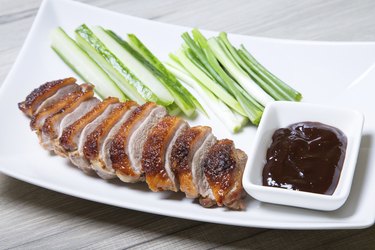 Hoisin sauce, a fermented soybean-based condiment, is typically found in Chinese cuisine and is used as a marinade or dipping sauce for meat, seafood and poultry. Sesame oil is a key ingredient in hoisin sauce so if you decide to make your own easy hoisin sauce recipe at home be sure to include it.
Hoisin Sauce Alternative — Try Sesame Oil
According to the USDA, nutritional information and ingredients vary depending on what brand of store-bought hoisin sauce you use. For example, a 2-tablespoon serving of store-bought hoisin sauce from one brand contains 70 calories and 920 milligrams of sodium, about 38 percent of the daily recommended value. Ingredients include high fructose corn syrup, water, soy sauce, salt, corn starch, white wine vinegar, sesame oil, garlic, allspice and caramel color.
Another brand of store-bought hoisin sauce, the USDA shows, contains 80 calories per 2-tablespoon serving, with 360 milligrams of sodium — about 16 percent of the daily recommended value. Ingredients in this sauce are similar to the previously detailed sauce with some difference including dried cane syrup, miso, onion powder and gmo-free corn starch. It's important to check ingredient labels carefully so you know what you're eating.
However, a positive to bottled hoisin sauce is that it is long-lasting; FoodSafety.gov notes that hoisin sauce is one of those foods that does not have to be discarded if it goes unrefrigerated — like during a power outage, for example.
But if you'd rather not cook with a purchased hoisin sauce you can easily create a hoisin sauce substitute at home. While sesame oil alone is not the best hoisin sauce replacement it plays an important role when you make an easy hoisin sauce recipe at home. When combined with miso paste, soy sauce, honey, garlic and a few other ingredients, sesame oil will give a nutty, smooth undertone to your homemade hoisin sauce alternative.
An advantage to making a from-scratch hoisin sauce substitute is that you'll know exactly what you're eating. You can leave out the high fructose corn syrup and caramel color and tweak ingredient amounts to exactly suit your own tastes. Use hoisin sauce as a dip for spring rolls packed with raw vegetables or slip a tablespoon or teaspoon into a chicken and vegetable stir-fry.
Easy Hoisin Sauce Recipe
If you're ready to make your own hoisin sauce at home, you can use simple ingredients you probably already have in your pantry. Some of these include hot sauce, peanut butter and soy sauce.
1 cup low sodium beef or vegetable broth
1 tablespoon vinegar (balsamic, cider or rice)
2 teaspoons molasses or brown sugar or substitute sugar-brown sugar blend
1/8 teaspoon of each: ginger powder, garlic powder, black pepper & salt
Whisk all ingredients in pot. Bring to a boil; cook 1 minute then reduce heat to medium. Cook for another 10 minutes. Remove from heat and cool.
Was this article helpful?
Thank you for your feedback!