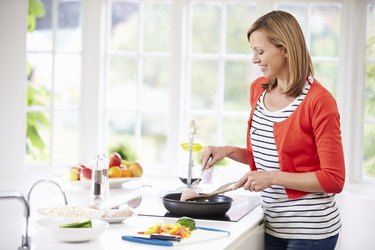 Hoisin sauce is made from vinegar, sugar, soy, chile peppers and garlic, a combination of ingredients which gives it a sweet and slightly spicy flavor. Hoisin is usually served as a condiment, but if you love its flavor, you can add it to stir fry in place of a more traditional stir fry sauce. Hoisin pairs well with tofu as well as a variety of meats, from chicken to pork, seafood or even lamb for a non-traditional stir fry.
Step 1
Heat the oil over high heat in the skillet.
Step 2
Add the garlic, red pepper flakes and/or the ginger once the oil is hot.
Step 3
Reduce the heat to medium and sauté the spices for one minute, stirring with a wok spatula to ensure that they do not burn.
Step 4
Add the tofu or meat and sauté them for three minutes or until the tofu or meat has begun to brown and is almost cooked through.
Step 5
Add the vegetables and stir. Sauté for three minutes or until the vegetables are still crisp but tender enough to eat easily. The meat or tofu should be cooked through when you are finished.
Step 6
Reduce the heat to low and add the hoisin sauce.
Step 7
Sauté the meat and vegetables in the sauce for one minute or until the ingredients are evenly coated and the hoisin sauce is warmed through.
Step 8
Spoon the hot stir fry over the rice and serve immediately.
Things You'll Need
2 tbsp. peanut or sesame oil

Wok or heavy skillet

3 minced garlic cloves, optional

1/2 tsp. red pepper flakes, optional

1/2 tsp. grated fresh ginger, optional

Wok spatula

1 1/2 lbs. extra-firm tofu or meat of your choice

2 cups assorted vegetables of your choice, such as sliced mushrooms, water chestnuts, red or green peppers, bamboo shoots, carrots or broccoli

1/2 cup hoisin sauce

4 cups white or brown rice, cooked