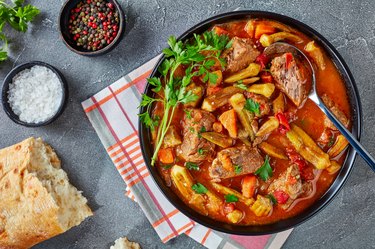 Right up there with Brussels sprouts and collard greens, okra is often overlooked as far as veggies go (OK, it's technically a fruit, but you get the point).
And while this underappreciated plant might not be a top priority when you're perusing the produce aisle, it should. As long as you don't have an okra allergy, its mild taste and unique texture can offer a lot to your plate and your palate.
Just one cup of cooked okra contains 4 grams of fiber (that's 16 percent of your daily recommended value), 3 grams of protein and a variety of vitamins and minerals such as vitamins C and K, calcium and magnesium, according to the USDA.
These five flavorful okra recipes will show you exactly what to do with okra so you can finally add this super veggie to your meal plan.
1. Shrimp and Cheddar Grits Bowl With Stewed Okra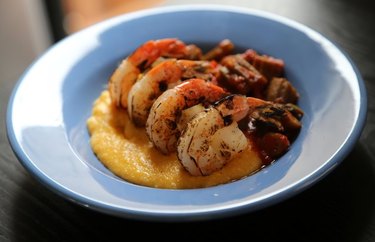 When it comes to comfort food, Southern staples like shrimp and cheesy grits top the list. While this healthier version doesn't skimp on flavor, nutrient-dense ingredients like shrimp, okra and tomatoes keep the calorie count low. At less than 300 calories per protein-packed bowl, you could even add a few extra sprinkles of cheddar without breaking the calorie bank.
2. Greek Gumbo With Okra, Gnocchi and Chickpeas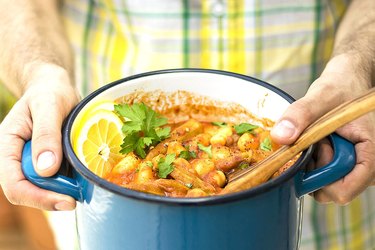 Chickpeas provide the plant-based protein in this simple, one-pot Greek-inspired "gumbo" recipe that comes together in less than 30 minutes. The secret to this Mediterranean meal's mouthwatering flavor is the combo of okra and tomatoes. A match made in culinary heaven, okra's earthy taste is enhanced by tomatoes' tanginess and acidity. Can't find fresh okra? The frozen variety works just as well.
For folks with a gluten allergy or sensitivity, simply swap in gluten-free gnocchi for cubed potatoes instead.
‌Get the Greek Gumbo With Okra, Gnocchi and Chickpeas recipe at The Hungry Bites.‌
3. Okra Cornmeal Cakes With Cilantro Lime Yogurt Dip
Face it: Every veggie tastes better when its battered and fried, and okra is no exception. Crispy on the outside and tender on the inside, these spicy okra cakes have quite a kick thanks to fiery jalapeño and red pepper. A refreshingly cool, creamy cilantro lime dip made with Greek yogurt balances out the heat and provides an extra dose of satiating protein.
4. Okra and Tomato Casserole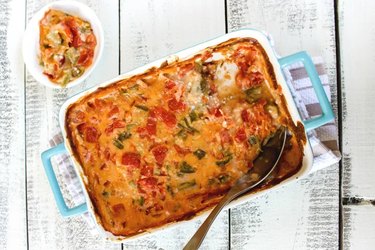 Seasoned with fresh thyme and crunchy breadcrumbs, this comforting casserole made with the perfect pairing of okra and tomatoes is bursting with tantalizing taste and essential nutrients. Not only do these flavor profiles complement each other, but the acidity in the zesty tomatoes also tempers okra's texture and keeps it from turning too slimy.
5. Sour and Spicy Fish Stew (Ikan Assam Pedas)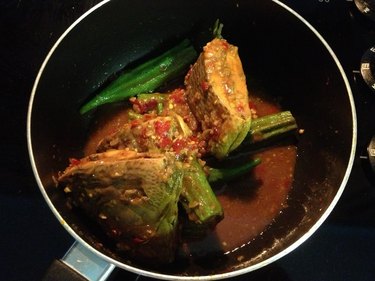 Mild, lean tilapia provides the perfect, high-protein seafood centerpiece for this Ikan Assam Pedas, a sour and spicy fish stew that's popular in Malaysia and Indonesia. Tamarind juice supplies the stew's sourness while dried chilies dial up the fiery heat. And to top it off, okra offers a vibrant splash of color and a touch of texture. For a more filling meal, serve this savory stew over a bed of fluffy brown rice.
‌Get the Sour and Spicy Fish Stew (Ikan Assam Pedas) recipe at The Cooking Jar.‌