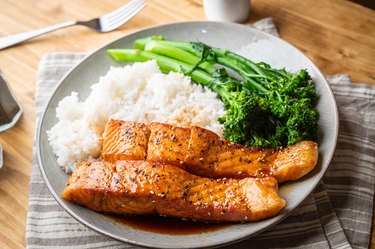 You can drizzle honey into your tea, on top of your oatmeal and onto your dinner. Yep, you read that last one right.
It may sound like an oxymoron but savory honey recipes are a thing and definitely deserve a spot on your weekly lunch or dinner menu. Drizzling some honey onto your go-to meals brightens up the flavor profiles and adds depth.
These delicious savory honey recipes are not only delicious but high protein, packing more than 10 grams per serving.
1. Honey Thyme Pork Tenderloin
‌Calories:‌ 590
‌Protein:‌ 38 grams
Especially if you've never prepped it before, pork may sound like a daunting protein to cook but it can be simpler than you think. Pork is usually oven-roasted (which can take on a lot of cook time), but this recipe calls for pan-fried meat instead, making the process a breeze.
2. Sweet Potato Buddha Bowl with Curry Pecan Dressing
‌Calories:‌ 712
‌Protein:‌ 23 grams
If you want a meat-free dinner with a sweet touch, look no further because this plant-based sweet potato buddha bowl will become your new favorite. And while this recipe may be free of meat, that doesn't mean it's low protein — this dish packs 23 grams total.
This dish is already high in fiber with 12 grams, but you can swap rice for another grain, like quinoa or farro, to add even more nutrients to your daily diet.
3. Honey Garlic Chicken Wings
‌Calories:‌ 290
‌Protein:‌ 19 grams
Whether you're gearing up to watch a sporting event or want just want some healthy-ish comfort food, these Honey Garlic Chicken Wings are a winner. They're baked in the oven, rather than fried, which is a great way to cut back on total fats and calories, Taub-Dix says.
But if you've got an air fryer at home, you can even toss your wings in there to get that crispy taste without the added calories, Taub-Dix suggests.
‌Calories:‌ 283
‌Protein:‌ 29 grams
This Asian cuisine-inspired Honey Garlic Salmon is the perfect quick dinner if you're strapped for time. All you need is 30 minutes and a handful of ingredients to prep this perfectly seared, high-protein dinner.
Consider serving your salmon over a pasta medley with a variety of vegetables, Taub-Dix suggests. "The more colorful the veggies the greater variety of vitamins, minerals and phytonutrients you get," she says. "And the salmon supplies omega-3 fatty acids that are heart-healthy."
5. Honey Ginger Tofu and Veggie Stir Fry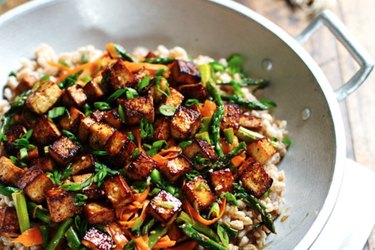 ‌Calories:‌ 375
‌Protein:‌ 12 grams
Tofu is a great ingredient to add to just about any veggie stir fry for some extra protein. This Honey Ginger Tofu and Veggie Stir Fry will give plain-tasting tofu some much-needed flavor and keep you satiated until your next meal.