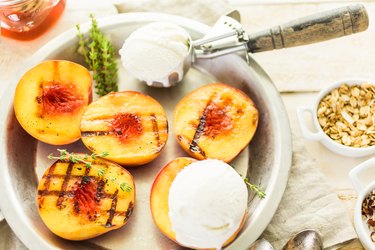 Hamburgers, hotdogs and steaks are summer barbecues' familiar fare. But if you're only using your grill for these go-to meats, you're missing out.
Yep, grilling can give many meatless foods — such as fruits and cheeses as well as breads and veggies — a big boost of flavor.
Ready to get adventurous? Spice up your summer cooking with these meat-free foods that are guaranteed to upgrade your grilling game.
Tip
No matter what you're cooking on the barbecue, always fully preheat the grill for best results, says Jackie Newgent, RDN, CDN, dietitian, chef and author of ​​The Clean & Simple Diabetes Cookbook.​
You might be wondering, ​Won't these buttery soft fruits melt or fall apart on the grill?​ "When ripe avocados are halved and remain in their peel, they're quite sturdy and hold up to grilling," Newgent says.
Before grilling, sprinkle the seeded halves with a little lime or lemon juice. Then, lightly brush with avocado or sunflower oil to prevent sticking, Newgent says.
Grill the cut side over direct medium-high heat until charred (but without fully cooking the inside) for about 4 to 5 minutes. Rotate halfway through grilling to get those cool crisscross marks.
Grilled avocadoes are great for guac, avocado toast or as edible bowls topped with a bean salad. "You'll adore the infusion of smokiness," Newgent says.
"Ideally use romaine hearts — the inner leaves attached to the core — since thinner, flimsier outside leaves of a regular head of romaine can easily burn," Newgent says.
Slice romaine hearts in half lengthwise or trim the top of a regular head of romaine and quarter it. Then spritz or lightly brush the cut sides with oil and grill over direct medium heat, cut side down, until lightly charred but still green (about 2 minutes).
"Enjoy whole grilled romaine hearts as a deconstructed salad or chop and savor them in a smokier version of Caesar salad," Newgent says.
"The solid texture of pineapple in all forms — especially rings and skewered chunks — holds up nicely to grilling," Newgent says. Plus, its natural sugars easily caramelize creating a scrumptious sweet flavor.
Lightly brush pineapple rounds or rings with oil, and grill over direct medium-high heat until lightly charred (about 4 to 5 minutes per side). "Alternatively, brush with a flavorful sauce to enhance taste, such as a mixture of oil, coconut nectar, honey, hot sauce and sea salt," Newgent says.
"Grilled pineapple is delightfully versatile, pairing well in both sweet and savory dishes," she says. Add a scoop of ice cream for a grilled pineapple sundae or try teriyaki grilled pineapple, pepper and tofu kebabs.
If you're only using these versatile veggies for spinach-artichoke dip, it's time to expand your repertoire. And grilled artichokes are a great place to start.
Cut off the top inch of the artichoke and the bottom half-inch of its stem. Peel off the tough outer leaves, then slice the artichoke in half lengthwise. Remove the furry center and inner leaves. In a well-salted pot, boil the artichokes until the stems are tender (about 15 minutes), then drain and cool.
Lightly brush artichokes with olive oil and season with salt and pepper. Place them cut-side down on the grill and cook on medium heat until lightly charred (about 5 to 7 minutes). Then flip and repeat on the other side.
Artichokes are best served with a simple squeeze of lemon.
What could make this quintessential summer fruit even better? Toss it on the barbecue. "Thanks to the rind, watermelon comes with its own 'handle' to grab onto and eat easily after grilling," Newgent says.
Quarter the watermelon lengthwise, then slice it, creating triangles with the rind. Spritz with oil to prevent sticking and grill over direct high heat until grill marks form (about 3 minutes per side).
For an extra flair of flavor, you can sprinkle with turbinado or coconut sugar and sea salt before grilling, Newgent says. Yum.
Pair grilled watermelon with soft cashew cheese or goat cheese and a drizzle of balsamic vinaigrette or dust with a dash of chili powder and lime zest for a burst of bright flavors, she says.
Succulent and sweet, peaches achieve peak perfection on the barbecue. "Due to their natural sugars, peaches caramelize ridiculously well on the grill," Newgent says.
Halve your peaches (keeping the pit in) and lightly brush the cut sides with olive oil. Grill over direct medium-high heat until grill marks form on the cut surfaces (about 5 minutes total).
"For serving, think of grilled peaches like a really cool version of tomatoes," Newgent says. "Thinly slice slightly cooled peach halves and sprinkle with the white balsamic vinegar, salt and hot pepper flakes, or stuff them into grilled mozzarella cheese sandwiches."
Grilled cauliflower is a crowd-pleaser: Thanks to its neutral taste, the cruciferous vegetable makes an ideal blank canvas that can satiate any culinary craving.
Cut the cauliflower into large steak-like slices and grill on low heat until it becomes tender. Then crank up the heat to achieve a nice char.
Banana split lovers, this one's for you. When you grill a banana, you get the bonus of the caramelized natural sugars. We're talking next-level sweetness.
Cut the banana in half lengthwise and leave the peel intact. Coat the cut sides with a little brown sugar, then place the bananas on the grill (cut sides down). Cook on medium-high heat for about 3 minutes, then flip and repeat (just long enough to warm the bananas all the way through).
Remove the peels and voila. Top with ice cream, drizzle with chocolate, sprinkle with nuts... You're only limited by your imagination.
Move over steak, it's time to torch the tofu.
Slice extra-firm tofu lengthwise into six thick slices. "Brush with a flavorful sauce or marinade of choice — it doesn't need to include oil; it's just for flavor purposes," Newgent says.
Then grill tofu "steaks" over direct medium-high heat until rich grill marks form, about 5 to 6 minutes per side.
"Serve based on the flavor profile of the sauce or marinade," Newgent says. "If it's a sesame-ginger marinade, serve on a bed of Asian-style noodles or grilled bok choy; if it's a fruity sauce, serve on a leafy green salad or a bed of rice and garnish with herbs."
Tip
"Before grilling, be sure to press excess liquid from a block of tofu by using a tofu press or wrapping in clean kitchen towels. This allows for better grill mark formation (browning) and better flavor," Newgent says.
The grill grates give cheese a scrumptious smokiness, and hearty halloumi is one of the best cheeses to grill. It's a terrific topper for salads and burgers alike. You can even cut it into cubes and string it through a skewer.
But because so many cheese varieties work well, you can pick whichever cheese you please (mozzarella and brie with a balsamic drizzle is brilliant, too).
If you're partial to meltier, softer cheeses, you can flop them on a piece of foil to minimize the mess. Grill for 2 to 3 minutes per side.
Grilling bread takes toasting to the next level: crispier crusts and chewier insides. Specifically, hearty, crusty breads flourish over the flames (think: a loaf of Italian bread).
Simply cut the bread into slices about a half-inch thick, then brush both sides with olive oil or melted butter. Put the slices cut side down on the grill and cook on a medium-high heat until grill marks form and the bread is lightly toasted (about 2 to 3 minutes). Flip the bread over and repeat. It's as simple as that.
Enjoy it on its own (because warm bread is everything) or spread a smear of pesto, herbed butter or soft cheese. And if you're craving something sweet, top bread with a dollop of ricotta, sliced peaches and a drizzle of honey.