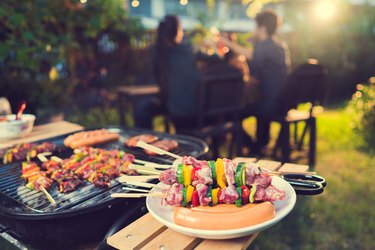 Forget hot dogs and cheeseburgers. Toss the tired processed meats and amp up this season's backyard barbecues with this solid round-up of our best grilling recipes.
We've got you covered from appetizers and mains — such as Zucchini Baba Ghanoush and Oaxacan tacos — to side dishes and even dessert (think Pan-Grilled Nectarine Sundaes).
But before we get to the good stuff, let's do a quick review on healthy grilling as we gear up for barbecue season.
‌Skip the Char:‌ One of the highlights of firing up the grill is getting those cherished grill marks. But we actually want to keep charring to a minimum, especially when it comes to animal proteins like beef, chicken and seafood. Charring meats can cause carcinogens to form, according to the American Institute of Cancer Research (AICR).
‌Cut the Fat:‌ Cut any visible chunks of fat from the meat before tossing on the grill. This will cut down the amount of saturated fat and prevent high flames, which can lead to more carcinogens.
‌Marinate the Meat:‌ Let your fish, chicken or steak marinate for at least 30 minutes. This will help cut down on carcinogens from forming in your proteins, according to the AICR.
‌Use a Meat Thermometer:‌ Just like in the kitchen, you'll want to make sure all of your various meats reach their appropriate internal temp to ensure food safety. Poultry should reach 165 degrees Fahrenheit, ground meat 160 degrees Fahrenheit and beef pork, and lamb 145 degrees Fahrenheit, per the USDA.
‌Don't Use a Wire Brush to Clean Your Grill:‌ In July 2018, the American Medical Association issued a warning against using wire brushes to clean your grill. Doing so poses a health risk: There are reports of the bristles becoming stuck in the food cooked on the grill and causing injury and in some cases, requiring surgery.
Customize your own menu for your next cookout by picking from our list of healthy grilling recipes.