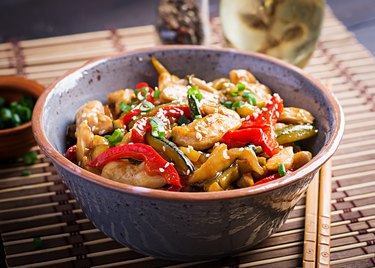 Your workweek lunches should be tasty, energizing and, perhaps most importantly, easy to assemble.
If you're trying to cut back on carbs, we've rounded up six delicious (and simple!) recipes that clock in under 30 grams.
From zucchini noodles to good-for-you nachos, try these registered dietitian-approved low-carb lunch ideas this week.
1. Pesto Zucchini Noodle Pasta With Avocado and Soft-Boiled Eggs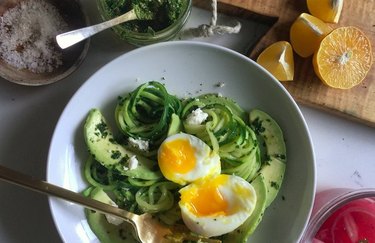 ‌8 grams of carbs per serving‌
Because the dish is smartly balanced with protein, fiber and heart-healthy fats, Amy Shapiro, RD and founder of Real Nutrition, says your body will digest it slower, helping you feel fuller for longer. Plus, the choline in the eggs will support your brain health, she adds.
To save time, consider whipping up a batch of zucchini noodles while you meal prep, and store it in a container in the fridge until you're ready to use them.
2. Caprese Mason Jar Salad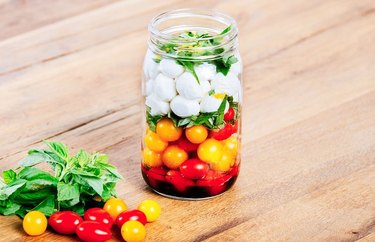 ‌11 grams of carbs per serving‌
While you may not be able to catch a flight to Italy right now, you can get a taste of the country in this low-carb lunch recipe. Shapiro raves about the whole-food ingredients in this mason jar salad, which are easier on our digestive systems.
3. Low-Carb Rainbow Nachos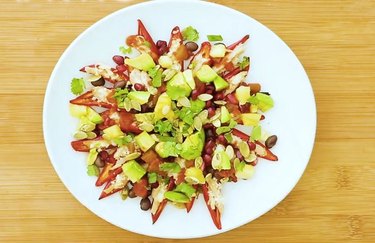 ‌8 grams of carbs per serving‌
Nachos that provide that imperative crunch ‌and‌ a colorful array of nutrients? Sign us up! Vettel says in addition to being satisfying, this low-carb recipe provides quality protein, healthy fats and a high amount of fiber. In terms of vegetables, this includes several all-stars, like immune-supporting bell peppers, anti-inflammatory pomegranate and heart-healthy avocados.
4. Spinach and Feta Avocado Toast on Keto Bread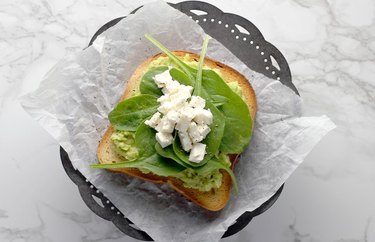 ‌16 grams of carbs per serving‌
Instagram this photo-ready lunch, then delight in its fiber content. Just one-half a cup of avocado offers 5 grams of this vital nutrient.
"Fiber basically negates any effect the carbs in this dish will have on your blood sugar, and with the high fiber, fat and protein in this recipe, you'll stay full for hours," Shapiro says.
This dish is particularly beneficial for lunchtime since the spinach contains lutein and zeaxanthin, which can protect your eyes from blue light damage, she adds.
5. Lentil and Walnut Soup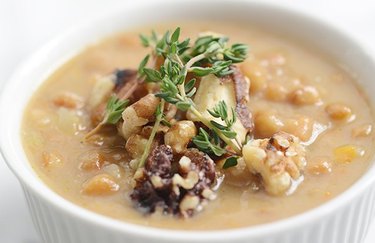 ‌25 grams of carbs per serving‌
The ingredients in this low-carb lentil blend make for a protein- and fiber-packed soup, perfect for chilly afternoons. Just a single serving will keep your full until dinner and with the walnuts add a heart-healthy boost.
"This dish has the extra benefit of being served hot, which feels more satisfying and helps slow down the speed of eating, allowing for feelings of fullness to register before you finish your bowl of soup," Vettel adds.
6. Asian Chicken Stir-Fry Salad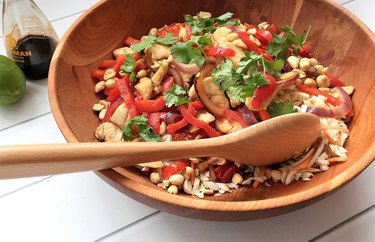 ‌11 grams of carbs per serving‌
Thanks to the crunchy cabbage in this recipe, Shapiro says you'll barely miss the traditional noodles. The fiber from all the veggies and the protein from the chicken will keep you satisfied as your body slowly digests the nutrients provided without rocking your blood sugar boat.
"Chicken is full of zinc and B12 to boost immunity and energy, the peppers are rich in vitamins C, another immune booster," she says.