Conjugated linoleic acid, an essential fat often found in red meat, helps you burn fat and build lean muscle. While carnitine, an amino acid, helps burn fat within the cells of your body, studies showing the effectiveness of carnitine as a fat burner have been lacking. While carnitine remains essential for fatty acid transport, the ability of your body to synthesize carnitine from other amino acids renders it nonessential. Consult a health care practitioner before using any dietary supplement.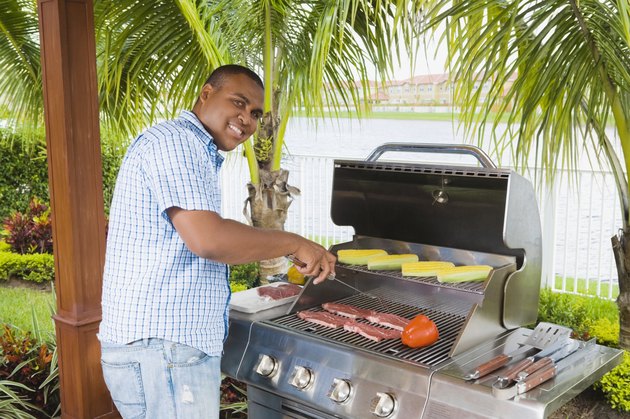 Conjugated Linoleic Acid
CLA is found in meat and dairy products, but its highest concentration is in red meat. CLA has a lower melting point than many fats, which may account for the ease with which your body uses it for energy. CLA has been recognized as a safe substance by the Food and Drug Administration, following a presentation by the United States Dairy Council. CLA has been reported to improve lean body mass, reduce fat mass and even help fight cancer.
CLA as a Supplement
While you can get CLA from meat and dairy, the amount you would have to eat to get a noticeable effect on your body composition would render any effects at dieting pointless. Supplementing with CLA, however, is another story. In a 2000 study published in the "Journal of Nutrition," CLA supplementation was shown to reduce body fat levels in all study participants. In some cases, CLA supplementation has even been shown to reduce the rate of tumor growth, according to a 2009 study published in "Lipids."
Carnitine
Carintine is an amino acid, and generally you synthesize enough from the amino acids lysine and methionine in your liver and kidneys. Because you synthesize enough for your daily needs, carnitine is not classified as essential. Carnitine is also found in all complete protein sources, including meat and dairy. Carnitine is essential in regulating the transport and breakdown of fats for energy within various cellular structures in your body. Unless you have a unique disorder or pathology, there is no requirement for extra carnitine in your diet.
Carnitine as a Supplement
While many supplement companies include carnitine in fat-burning supplements, there is zero evidence to support its efficacy as a fat-loss agent. In those with a deficient carnitine status, supplementation may have some effect. As you age, your ability to process and synthesize amino acids decreases, and this can limit various biochemical functions. In older patients, carnitine supplementation was shown to have some positive effect, reducing both mental and physical fatigue, according to a 2007 study published in the "American Journal of Clinical Nutrition."
CLA in Comparison to Carnitine
CLA helps you lose fat and maintain lean muscle mass, while carnitine does not. CLA is a potent anti-inflammatory; carnitine is not. CLA is essential; carnitine is not. There is no evidence to support the inclusion of carnitine as a supplement for any purpose, unless you have some sort of unique clinical deficiency. CLA is useful when dieting to preserve lean muscle mass and ensure that you lose fat instead of lean tissue.