Plums are a small stone fruit related to nectarines and peaches. They tend to have a sweet and tart taste, and you can eat them as is or use them in a variety of recipes, including plum wine, pickled plums and plum jam. Plums are low in calories and offer several beneficial nutrients, so adding them to your diet can be beneficial.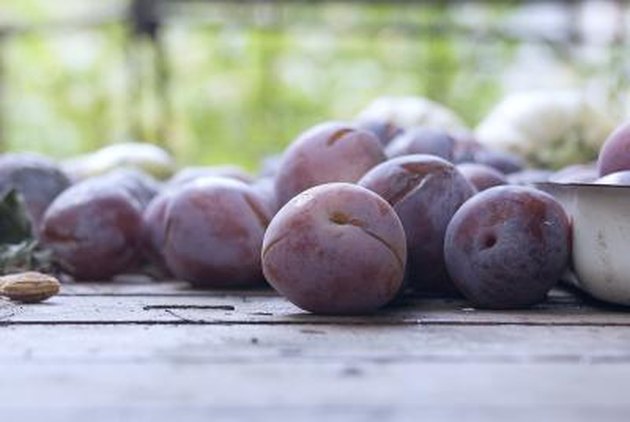 Low in Calories
Plums are low in calories, which can be beneficial if you're dieting. Each small plum, about 2-1/8 inches in diameter, contains only 30 calories, or just 1.5 percent of the daily recommended intake of 2,000. You can burn off the calories in plums relatively easily; a four-minute swim would be sufficient to burn 30 calories.
Low in Fat
Plums are very low in fat, with less than 0.2 grams in each small fruit. Additionally, plums contain virtually no saturated fat, the dangerous fat that may increase your risk of heart disease by raising your cholesterol levels.
Low in Carbohydrates
If you're on a carbohydrate-restricted weight-loss plan, plums are an excellent sweet snack, as each small plum contains just 7.5 grams of this nutrient. This makes a plum better for low-carbohydrate diets than a medium banana, which contains 15 grams of carbohydrates per serving.
Low Glycemic Index Rating
Plums have a low glycemic index, or GI, rating of 24. Having a low GI rating means that eating a plum doesn't cause radical changes in your blood sugar levels. Research from the June 2011 issue of the "Journal of Nutrition" found that low-glycemic foods encourage improved weight loss on a reduced-calorie diet.
Rich in Vitamin C
Plums are a good source of vitamin C, as each small fruit contains 7 percent of the daily suggested intake. Vitamin C is an antioxidant, so it can help protect your cells from free radical damage. Vitamin C also helps produce carnitine, norepinephrine and collagen.
Rich in Vitamin A
Plums also contain vitamin A, and a small fruit provides about 8 percent of the recommended daily intake. Vitamin A promotes healthy vision, reproduction and bone growth, among other benefits.