Tingling and numbness in the arms, legs, mouth and face can signal a reaction to certain foods. Tingling or numbness may result from a mild sensitivity, intolerance, allergy or autoimmune reaction to foods. If you regularly experience these symptoms, contact your physician to discuss eliminating certain foods and rule out other potential causes.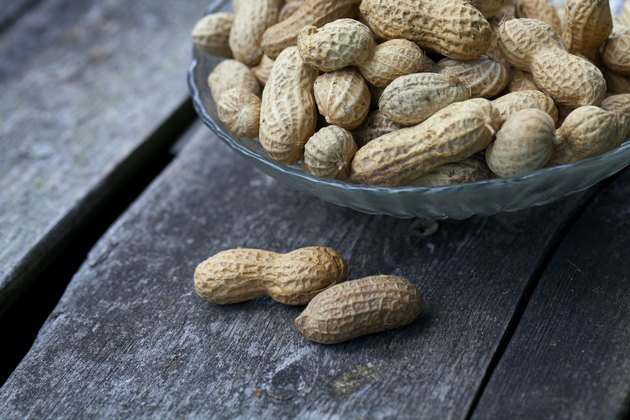 Significance
Tingling and numbness can range from mild to severe. These abnormal sensations could be a result of the food you eat, indicating an allergy that may become more severe over time. Tingling and numbness are also symptoms of dozens of other serious conditions, including multiple sclerosis, nerve damage or a herniated disc. It is important to figure out the cause of the symptoms to find relief and to treat any condition, food-related or otherwise, that may be afflicting you.
Celiac Disease
Gluten-intolerance, or celiac disease, affects approximately 3 million Americans notes the National Foundation for Celiac Awareness. If you have celiac disease, gluten – a protein in wheat, barley and rye – stimulates an autoimmune response in your body that destroys the villi in the small intestine, leading to malabsorption of nutrients. One of the symptoms of this malabsorption is tingling in the legs. The only way to treat celiac disease is a gluten-free diet. If this is the cause of your symptoms, you should experience relief, but it may take several months.
Allergies
An allergic reaction to food often begins with a tingling on the tongue and feeling of numbness in the mouth. Seven foods are responsible for over 90 percent of food allergies, notes Dr. William Sears on his website. These foods are dairy products, soy, shellfish, wheat, tree nuts, peanuts and egg whites. The tingling may appear almost immediately, or it may show up two hours after eating the offending food.
Monosodium Glutamate
Manufacturers and restaurants add monosodium glutamate to food to enhance flavor. Although considered safe, some people report reactions to eating the additive. In addition to headaches, flushing, trouble breathing and rapid heart rate, numbness and tingling in the face, neck and other regions are reported symptoms. No link between these symptoms and the consumption of MSG has been scientifically proven, but if you experience symptoms that correlate with ingestion of the additive, avoid it.