In the 1980s, a strict diet supposedly used by country music singer Dolly Parton became popular under a number of names, including the cabbage soup diet, the Sacred Heart Hospital diet and the Mayo Clinic diet. Although proponents of the diet claim it can help you lose 10 to 15 pounds in a week, the Academy of Nutrition and Dietetics cautions that the plan includes guidelines that make it unbalanced and unhealthy.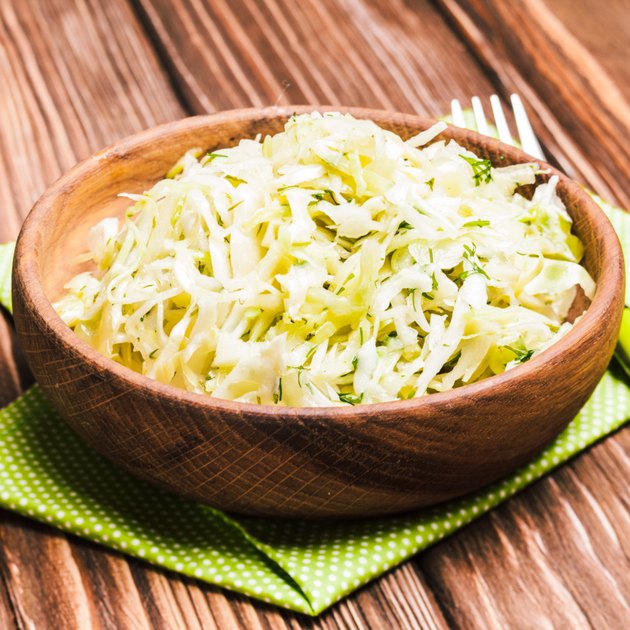 Basic Guidelines
The cabbage soup diet allegedly followed by Parton is a seven-day plan that has two parts. The first consists of eating an unlimited amount of a specific cabbage soup each day. The recipe calls for shredded green cabbage, vegetables such as green peppers and onions, diced tomatoes, onion-flavored soup mix, bouillon or broth, and seasonings such as basil or cilantro. The second part of the diet involves eating only certain foods each day of the week. No substitutions are allowed. Dieters are also encouraged to drink plenty of water and take a daily multivitamin.
Sample Menu
On day one of the program, you can eat all the cabbage soup and fruit you want -- except for bananas -- but nothing else. Day two is all vegetables and soup, along with a baked potato. Day three features more fruit, vegetables and soup, although bananas and potatoes are excluded; on day four, you are allowed to have unlimited nonfat milk and up to eight bananas with your soup. Day five features beef and tomatoes, while day six allows all-you-can-eat beef and vegetables, but no potatoes. On the plan's final day, you'll have the soup, brown rice vegetables and 100 percent fruit juice.
Potential Advantages
Elaine Turner, a University of Florida nutritional scientist, says you'll probably lose weight on the cabbage soup diet. Turner points out, however, that the lost pounds are water since it is not possible for you to lose 10 to 15 pounds of fat in a single week, as the diet's supporters claim. Once you return to your regular eating habits, the pounds will return unless you make dietary changes and become physically active. A healthy adult can follow the plan temporarily without long-lasting physical damage, adds Turner.
Possible Disadvantages
The cabbage soup diet does not encourage followers to develop the exercise and nutrition habits that will lead to sustainable weight loss and better health. The plan could worsen the symptoms of conditions such as diabetes, and it could lead to future medical problems in people who cycle on and off the diet, losing and gaining weight repeatedly over the years. There is no scientific evidence to prove that eating only certain foods together will help you lose weight any better than a low-fat, low-calorie plan. In addition, the cabbage soup will be high in sodium unless you use low-sodium broth or soup mix.