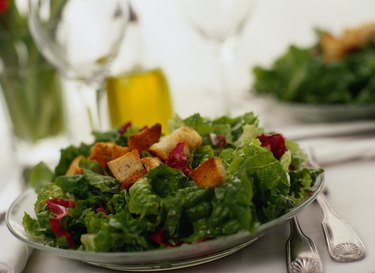 The sky's the limit when it comes to choosing side dishes for dinners that feature beef tips. Beef tips are a versatile cut that can come from any part of the cow, although they're usually cut from loin meat. They can be stewed or seared, seasoned simply or given more complex flavor profiles. As long as a side dish goes with beef, it pairs well with beef tips.
Garden Salads
Fresh vegetables add color and fiber to a dinner based on beef tips. Toss Romaine lettuce, carrots, celery and red cabbage together for a classic garden salad. Mix baby spinach, red onion, boiled eggs, tomatoes and balsamic vinaigrette dressing for a sweet side. Or combine red cabbage, green cabbage, iceberg lettuce, onions, celery and carrots with low-fat Italian dressing for a zippy salad. Throw baby greens, arugula, Romaine lettuce, baby spinach, olive oil and lemon juice together for a leafy salad.
Other Salads
Other salads that pair well with beef tips include potatoes or pasta. Mix boiled and sliced new potatoes with low-fat ranch salad dressing, onions and celery for a creamy side. Toss whole wheat macaroni with low-fat Italian dressing, black olives, green onions and cherry tomatoes for an Italian-style dish. Pack extra-protein into your beef dinner with a colorful salad made with black beans, kidney beans, salsa, lime juice, red bell peppers, green bell peppers and garlic. Combine red apples, bananas, pears and peaches to add a sweet twist to a beef dinner.
Steamed Vegetables
Steamed vegetables complement and add nutrients to a healthful meat dinner. Stir sliced almonds into steamed green beans for a sophisticated side. Dust steamed cauliflower with yellow curry powder and ginger powder for a mildly spicy dish. Go for a simple side by tossing steamed peas with low-fat margarine, salt and pepper. Sprinkle steamed broccoli with low-fat cheddar to add a hint of cheesiness to the meal.
Grilled Vegetables
Break out the coals to create a side dish just as savory as beef tips. Slide slices of zucchini and baby squash on metal skewers and grill. Sprinkle corn with pepper, garlic powder and onion powder, wrap the ears in foil, and grill for a sweet and spicy dish. Grill thick slices of Portobello mushroom for a side with a texture as meaty as beef tips.
Mixed Rice Dishes
Mixing rice with other ingredients turns the plain grain into a flavorful side for beef tips. Combine brown and wild rice with walnuts for a nutty dish. Simmer white rice, onions and carrots in low-sodium beef stock for an extra-beefy taste. Saute uncooked rice in low-fat margarine and then simmer with parsley in low-sodium beef broth to create a saucy risotto side.