The cabbage soup diet is one of the oldest fad diets around, according to Diet.com. The seven-day plan still has its followers today. Proponents of the diet claim you can lose 10 to 17 pounds in one week. Folklore has it that cardiac surgeons once recommended the cabbage soup diet for obese and overweight patients who were facing surgery. But most mainstream health practitioners and organizations including the American Heart Association discourage this diet.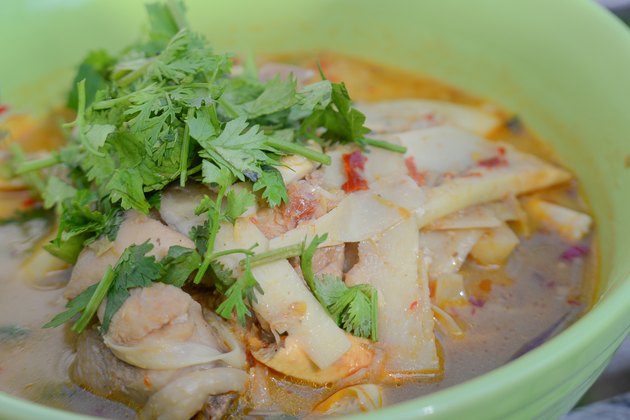 History
Who developed the cabbage soup diet and when it came out aren't really known. Diet.com reports that the diet may have emerged in the 1950s. It fell out of favor for a while and then re-emerged in the 1980s under several different names, including the Dolly Parton diet, the Trans World Airlines stewardess diet and the model's diet. The diet fell out of favor again and re-emerged in the 1990s as the Sacred Heart diet, as well as the Spokane diet, the Mayo Clinic diet and Miami Heart Institute diet. None of these health-care institutions have ever endorsed this diet.
Diet Details
The cabbage soup diet is a strict regimen that you must follow for seven days. Although there are many versions of the diet, they are similar. On all days, you may have all the cabbage soup that you want, as well as specific foods. On the first day, you may eat any fruit you want with the exception of bananas. On the second day, you may have raw and cooked vegetables, with the exception of corn, peas and beans. A baked potato for dinner is recommended. On the third day, you may have unlimited fruits and vegetables. On day four, you must eat three to eight bananas and skim milk. On day five, you may consume six tomatoes and 1 lb. of red meat or fish. On day six, you may have beef and vegetables, and on day seven, you may have brown rice, fruit juice and unlimited vegetables.
Considerations
The cabbage soup diet is meant for short-term use because it is extremely low in calories, lacks protein and does not provide the vitamins and minerals you need to stay healthy. The diet yields a rapid weight loss that is usually not sustainable. Most of the weight loss is water weight. The cabbage soup diet is high in sodium. If you are a heart patient, this can be a problem, as it can affect your blood pressure. This is one reason it's highly unlikely that any cardiac surgeon ever prescribed this diet for heart patients facing surgery.
Healthy Dietary Recommendations
If you are an overweight or obese heart patient, and your doctor suggests losing weight before surgery, try making healthy changes instead of following the cabbage soup diet. Decrease your calories, as well as sources of saturated fat and trans fat, such as butter, full-fat dairy products, meat, processed foods and commercially produced items. Decrease cholesterol intake by avoiding eggs, red meat and shellfish. Cut back your sodium intake to less than 1,500 mg per day by limiting canned foods, processed foods and salt. Add whole grains, lean proteins like chicken and fish, low-fat dairy and plenty of fruits and vegetables to your diet. These foods can promote weight loss, while providing you with important nutrients that keep you healthy and protect your heart. Do not begin an exercise regimen without getting your doctor's OK.