Common types of green mangoes available in the United States include the Kent and Keitt varieties. Because the nutritional values across mango varieties is similar, green mangoes have a glycemic index and glycemic load value comparable to red, yellow and orange mangoes. In the U.S., green mangoes are generally available from January to March and from mid-May to mid-October.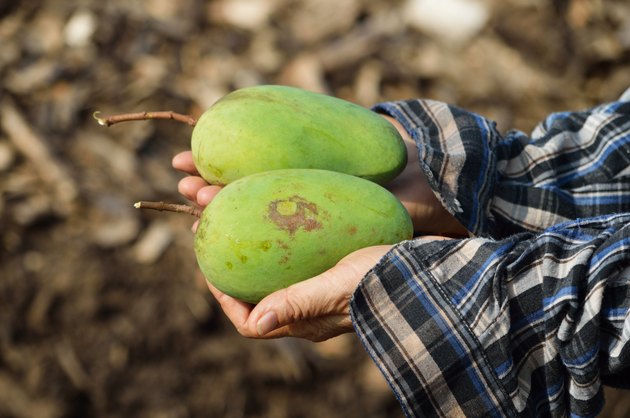 Nutrition
Green mangoes provide around 100 calories per 1-cup serving. Per cup, mangoes contain around 25 g of carbohydrates, including 22.5 g of sugar and 2.6 g of fiber. A 1-cup portion also provides 25 percent of the daily value of vitamin A and 76 percent of the daily value of vitamin C. Mangoes have a high water content, which accounts for 137.7 g of the 165 g in a cup of mango.
Glycemic Index vs. Glycemic Load
Although all foods that contain carbohydrates raise blood sugar levels, the impact of carbohydrate-containing foods on blood sugar levels varies. The glycemic index, or GI, of a particular food indicates the effect it has on blood sugar -- specifically how fast the carbohydrates turn to sugar -- when compared to the effect of pure glucose on blood sugar. Foods with a glycemic index of less than 50 are low-GI foods. A score of 50 to 70 indicates a moderate GI, while foods scoring 70 or above are categorized as high GI foods. Glycemic load takes into consideration how much of a carbohydrate is in a particular food, a factor that directly impacts its effect on blood sugar.
Mango Glycemic Values
Foods with a glycemic load of 10 or less are classified as low-glycemic-load foods. A score of 11 to 19 constitutes a medium glycemic load, while a score of 20 or higher is considered high. The glycemic index for 120 g of mango is 60, which qualifies the fruit as moderate on the glycemic index scale. However, because green mangoes have a high water content, the amount of carbohydrate by weight makes the glycemicload score a 9. A green mango is a low-glycemic-load food.
Considerations
The glycemic index and glycemic load scales can help you choose carbohydrates that have a minimal effect on blood sugar. Harvard School of Public Health recommends choosing foods that have a low or moderate glycemic load, while limiting foods such as potatoes, refined grains and sweetened beverages that have a high glycemic load. The glycemic load of foods is only one consideration when planning a balanced diet. Consult with your doctor when designing your eating plan, particularly if you have diet-related health problems.