Every food you eat temporarily affects your body's acid-alkaline balance. Blood and other bodily fluids are naturally alkaline, with a narrow pH range between 7.365 and 7.45 on the acid-alkaline scale. Highly acid-forming foods, such as sugar, coffee and meat, have an acidifying effect on your bodily fluids. Consuming alkaline-forming foods helps keep your pH balanced, but if you tend to eat more acid- than alkaline-forming foods, your body pulls from its alkali reserves to maintain proper pH levels. Most nuts, including walnuts, hazelnuts and pecans, are slightly to moderately acid-forming, but a few varieties have an alkalizing effect.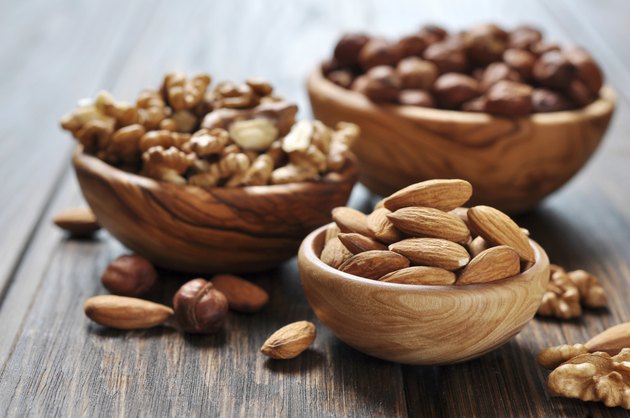 Chestnuts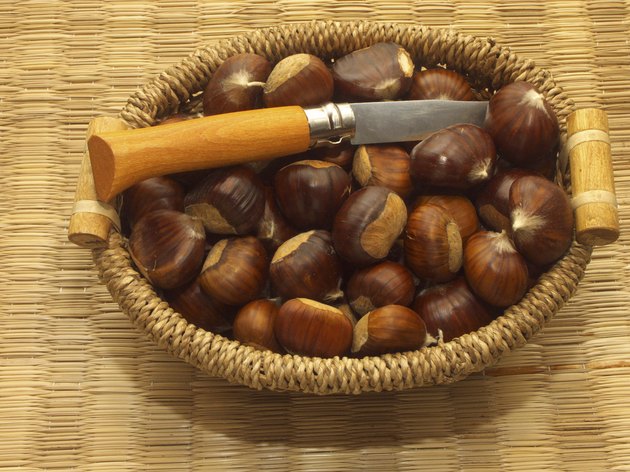 Chestnuts rank as the most alkaline-forming nut. Their alkalizing effect on the body is due in part to their high water content — chestnuts are about 52 percent water. Their high moisture content also makes them the only low-fat, low-calorie nuts. One ounce of dried or roasted chestnuts provides 70 calories and just 1 g of fat. Chestnuts are also the only nuts that contain vitamin C, a vital antioxidant nutrient. A 3 oz. serving of roasted or dried chestnuts provides approximately 45 percent of the recommended daily allowance of vitamin C. Chestnuts are also an excellent source of manganese and copper, and a good source of magnesium, folic acid and vitamins B-1, B-2 and B-6.
Almonds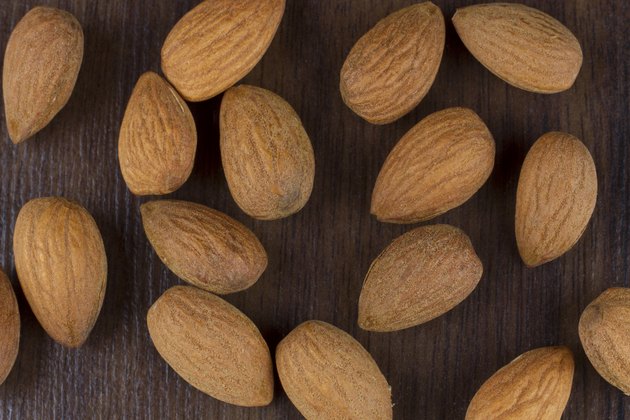 Almonds are nutrient-dense, moderately alkaline-forming nuts. They provide more calcium than any other nut, and this high calcium content coupled with a high magnesium content is what makes almonds alkaline-forming, according to the book "The pH Balance Diet." Because almonds are about 60 percent fat, they're also high in calories; a 1 oz. serving contains just over 170 calories, of which 102 calories are from heart-healthy polyunsaturated and monounsaturated fat. Almonds are an excellent source of protein, potassium, iron, zinc and vitamin E, and a good source of antioxidant flavonoids. Like other nuts, almonds help reduce LDL cholesterol levels and offer protection against heart disease.
Other Nuts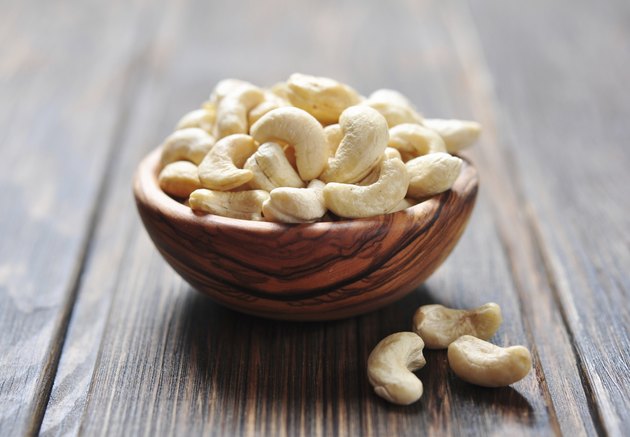 While chestnuts and almonds are recognized as the only alkaline-forming nuts by most experts, some, including "The Acid Alkaline Food Guide," also list cashews and macadamia nuts as alkaline-forming. Most authorities categorize hazelnuts as slightly acid-forming, but "The Encyclopedia of Healing Foods" states that they're slightly alkaline-forming. Pine nuts are also typically categorized as acid-forming, but the book "Alkalize or Die" classifies them as slightly alkalizing. Discrepancies in the categorization of the pH nature of food in the body are common, but usually only vary between slightly acid-forming and slightly alkaline-forming. Most experts are in agreement, however, that walnuts are highly acid-forming.
Considerations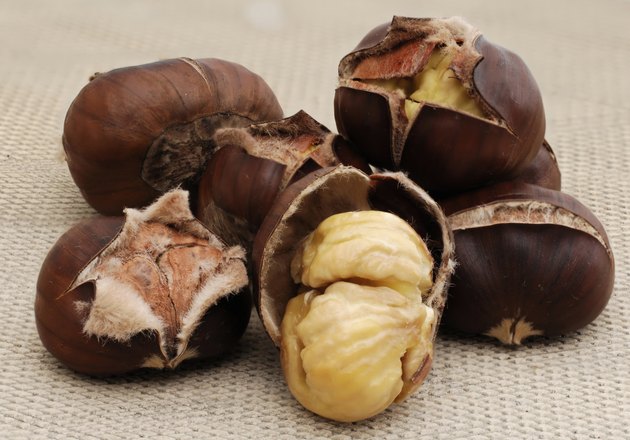 Even acid-forming nuts have an important place in the alkaline-conscious diet. Nuts are packed with nutrients, the benefits of which outweigh their acid or alkaline nature and their high calorie and fat content. Regular consumption of a variety of nuts promotes strong bones and teeth, lowers LDL cholesterol levels, supports the immune system, lowers the risk of coronary artery disease, increases concentration and protects against cell-damaging free radicals. The alkaline-forming nature of chestnuts and almonds is simply an additional benefit to the multiple health benefits these nuts provide.