Testosterone is a steroid sex hormone that plays a crucial role in maintaining a healthy libido in men and women. In men, the testes and the adrenal glands are the main providers of testosterone. The ovaries and adrenal glands produce the hormone in women. Disturbances in the blood levels of testosterone can give rise to depression in both men and women. When testosterone causes depression in women, it is usually because of an insufficient amount of testosterone available in the blood. But high testosterone levels can also be a trigger.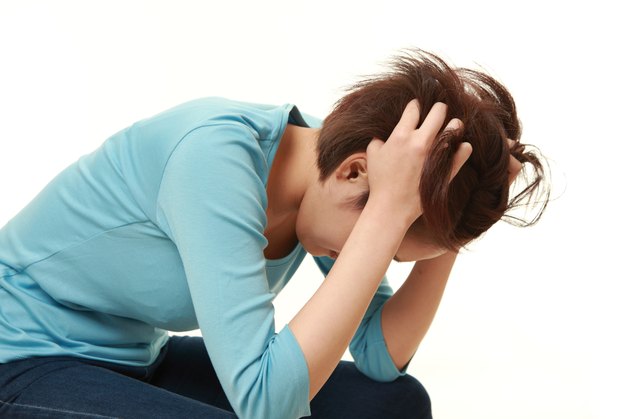 Depression
Depression is a physical and emotional state associated with feelings of sadness and gloominess, decreased levels of serotonin and in some cases dopamine in the brain, and an increased activity in the amygdala, the brain's main fear-processing center.
Depression is normally effectively treated with a prescription medicine in the serotonin reuptake inhibitor class. This class of drugs prevents the serotonin transporter from transporting serotonin back into the cells. This increases the extracellular levels of serotonin in the brain, which makes the hormone available for binding to and activating other neurons in the brain. Some serotonin reuptake inhibitors, such as venlafaxine, also increase the blood levels of dopamine in the brain by blocking the norepinephrine transporter.
High Testosterone and Depression
Both too low and too high testosterone levels in women can give rise to a low libido, an inability to have orgasms, loss of feminine traits and weight gain. Disturbances to the testosterone levels can also have a negative impact on energy levels and levels of aggressiveness and irritability. Too high levels of testosterone may furthermore increase the secretion of stress hormones from the adrenal glands. This in turn is commonly associated with an increase in amygdala activity and a drop in serotonin levels.
Causes of High Testosterone in Women
Hormone secretion in both men and women is very sensitive to both external and internal stressors. A stressful environment can contribute to an elevated or a decreased secretion of most hormones in the body, including testosterone. A diet extremely high in protein can also have a negative effect on testosterone levels in women.
Excess protein normally converts to glucose or fat, which the body can use as an energy source or store as glycogen or body fat. When combined with excessive exercise, however, the excess protein will add to the increase of muscle mass. An increased muscle mass can trigger the adrenal glands into producing an excess of testosterone. Other causes of high testosterone in women include ovarian cancer and disease or damage to the hypothalamus or pituitary gland.
Treatments of High Testosterone and Depression
The most common way to treat depression that results from elevated levels of testosterone is to treat the cause of the condition. Dietary changes from a diet excessive in protein to a more balanced diet can sometimes treat a hormonal imbalance. In other cases, doctors may choose to prescribe a medicine that increases blood levels of the chemical sex hormone-binding globulin, or SHGB, that binds testosterone and prevents its normal circulation in the blood. The treatment of high testosterone levels may be combined with a separate treatment of the symptoms of depression with a serotonin reuptake inhibitor.