Salt tablets are used to replenish sodium stores within the body. Your body needs a certain amount of sodium to function properly. When you sweat, such as during exercise, or when you lose an excessive amount of fluid, such as when you're vomiting and have diarrhea, your body may lose too much sodium. Salt tablets can quickly and effective restore the balance. Taking salt tablets can cause side effects, however, particularly if you use them incorrectly. For this reason, it's important to consult your doctor before use.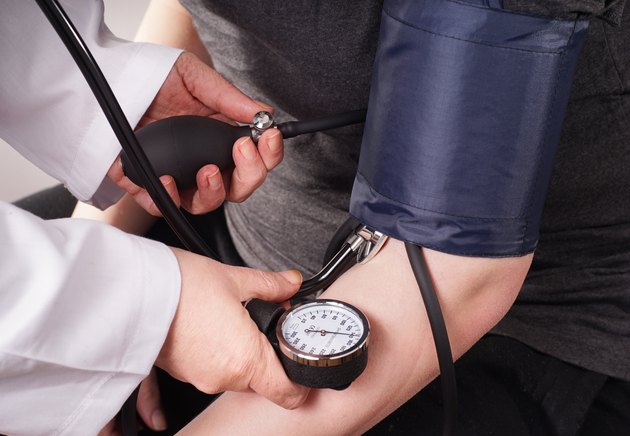 High Blood Pressure
When you take salt tablets, the amount of sodium in your blood increases. This can cause the amount of water in your blood to increase as well. The combination results in a major increase in blood volume. Your heart has to pump harder to make for the extra fluid, and this causes your blood pressure to increase. This is especially true if you are sensitive to sodium or have pre-existing kidney problems. Extremely high blood pressure can cause a stroke and is considered a medical emergency.
Water Retention
If you take too many salt tablets, or you take one when you don't need it, you can disrupt your body's water-sodium balance, which can lead to water retention. When your body is carrying too much salt, it holds on to the water you drink in an effort to maintain balance. If you retain a significant amount of water, your clothes may not fit well and jewelry can become uncomfortably tight. You can usually get rid of water retention by temporarily increasing your fluid intake or by using a weak diuretic, such as caffeine.
Hypernatremia
Hypernatremia is a condition that occurs when the sodium levels in your blood are too high. This is the most serious problem the misuse of salt tablets can cause. Hypernatremia can range from mild to severe, and includes symptoms such as muscle spasm, irritability, restlessness, nausea and vomiting. In severe cases, brain hemorrhage, seizures, coma and death can occur. Moderate to severe hypernatremia must be treated in a hospital setting.
Long-Term Effects
If you use salt tablets regularly over an extended period of time, you have a greater chance of developing chronic hypertension, or high blood pressure, which can lead to cardiovascular problems such as heart attack or a clogged coronary artery. Salt tablets also increase the amount of calcium you excrete in your urine, making you more prone to kidney stone formation, according to a study published in 1993 in the "Journal of Urology." If you develop chronic high blood pressure as a result of frequently using salt tablets, kidney damage can occur as well.