Production of red blood cells is dependent on vitamin B-12. Bilirubin is the byproduct of red blood cell degradation. Your body depends on the steady production of red blood cells, as well as the byproducts formed at the end of their life cycle. A disruption of red blood cell production due to insufficient vitamin B-12 or improper absorption of B-12 can lead to a condition known as megaloblastic anemia. It is typical to have elevated bilirubin blood levels if you are experiencing megaloblastic anemia.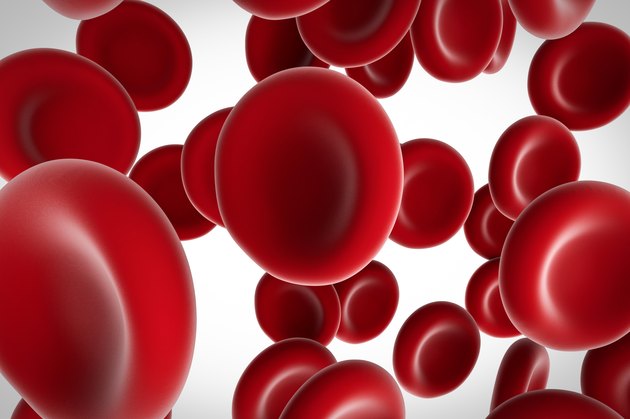 Bilirubin
Red blood cells normally degrade after a 120-day life cycle. As they begin to degrade, hemoglobin, the protein responsible for transporting oxygen in the blood, breaks down into unconjugated bilirubin. According to Lab Tests Online, approximately 250 mg to 350 mg of unconjugated bilirubin is produced daily. The unconjugated bilirubin is carried to the liver, where it binds with sugar and is converted to conjugated bilirubin. The attached sugars help make it water-soluble so it can be absorbed by the small intestines and excreted in feces. The brown color in your feces is due to excreted bilirubin. High levels of either conjugated or unconjugated bilirubin in your blood is known as a condition called jaundice. The cause of jaundice can be determined by blood tests conducted by your physician. The "Manual of Diagnostic and Laboratory Tests" lists gallstones as a common cause of elevated conjugated bilirubin, and includes megaloblastic anemia a cause of elevated unconjugated bilirubin.
Vitamin B-12
Vitamin B-12 is a water-soluble vitamin, which your body cannot produce. Diet, primarily animal products, is your only source of the vitamin. Your body is able to store vitamin B-12 for long periods of time, even several years. However, if you don't get a regular dietary supply, your reserves will be used up and lead to a vitamin B-12 deficiency. A deficiency disrupts many bodily functions, especially the division of red blood cells. Vegans are at risk of vitamin B-12 deficiency because they consume no animal products.
Megaloblastic Anemia
Megaloblastic anemia is a result of improper red blood cell division due to abnormal DNA synthesis caused by a deficiency in vitamin B-12. The red blood cells prematurely divide, but the other contents of the cells, such as hemoglobin, continue to form in excess. This produces a larger than normal cell with excess hemoglobin. Excess hemoglobin leads to increased unconjugated bilirubin when the immature red blood cell degrades. Symptoms of megaloblastic anemia include fatigue, loss of appetite, pale skin, shortness of breath during exercise and difficulty concentrating. If you have experienced these symptoms for a long period of time, you may also be experiencing depression, periods of dementia, loss of balance, and a tingling feeling in your hands and feet.
Treatment of Megaloblastic Anemia
Before any treatment for megaloblastic anemia, your doctor will need to determine the cause of the vitamin B-12 deficiency. It is possible that you may be getting adequate amounts of B-12 in your diet, but for some reason your body cannot absorb the vitamin. If your doctor determines that your diet is not providing enough vitamin B-12, he may recommend initial vitamin B-12 injections, followed by vitamin B-12 supplementation. In either case, if vitamin B-12 deficiency is the cause of your anemia, symptoms should subside soon after treatment begins.