Itchy skin can develop for many reasons. It can occur with or without a rash, in small areas or the whole body. Identifying the cause is important to ensure proper treatment. While there are several potential causes of itchy skin, it has not been directly linked to a vitamin B-12 deficiency. However, vitamin B-12 is important to healthy skin and may be a potential treatment for eczema.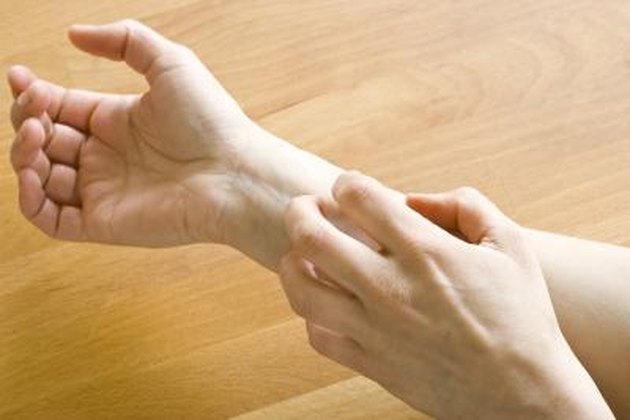 Vitamin B-12 and Skin
Vitamin B-12 deficiency has been linked to changes in skin pigmentation as well as irritation and cracks in the corners of the lips. A case report published in 2008 in "Canadian Family Medicine" noted skin lesions or irregularities may also be a symptom of vitamin B-12 deficiency if the problem remains unresolved after other treatments.
Possible Eczema Treatment
While not related to B-12 deficiency, a study published in the "British Journal of Dermatology" in 2004 found that topical vitamin B-12 may be effective in treating eczema. Eczema is a skin condition characterized by inflamed rash, extreme itching, swelling, redness and blisters that ooze and become crusty. A randomized study of 41 participants between the ages of 18 to 70 found that treating eczema with cream containing vitamin B-12 significantly reduced severity of eczema compared to a placebo cream. Topical B-12 is believed to decrease inflammation and its side effects.
Signs of Vitamin B-12 Deficiency
Mild vitamin B-12 deficiency may have no symptoms or may cause fatigue, shortness of breath, diarrhea, nervousness, numbness, or tingling sensation in the fingers and toes. Neurological damage can result from severe deficiency. Vitamin B-12 is present only in animal foods and is not synthesized by the body, so if you are a vegetarian or vegan, you are at a greater risk of deficiency. If you suspect you may be vitamin B-12 deficient, contact your doctor for an evaluation.
Causes of Itchy Skin
Dry skin is the most common cause of itchy skin without a rash or other skin changes. Other possible causes include irritation and allergic reactions, medications, pregnancy, skin conditions like eczema, psoriasis and hives; internal diseases including liver disease, celiac disease, kidney failure iron deficiency and thyroid problems. Conditions that affect the nervous system, including multiple sclerosis, diabetes, pinched nerves and shingles, can cause itching. Since vitamin B-12 deficiency can lead to nerve problems, this may be a potential link if you have itching and are also experiencing neurological problems. Contact your physician if your itching continues for more than two weeks, is extremely uncomfortable, can't be explained or if it affects your entire body.