It is impossible to make a blanket statement that all bagels are good or all bagels are bad. If you eat too many bagels, they can be bad for you. However, if you select the right type, bagels can be a good choice for breakfast as a part of a well-balanced diet.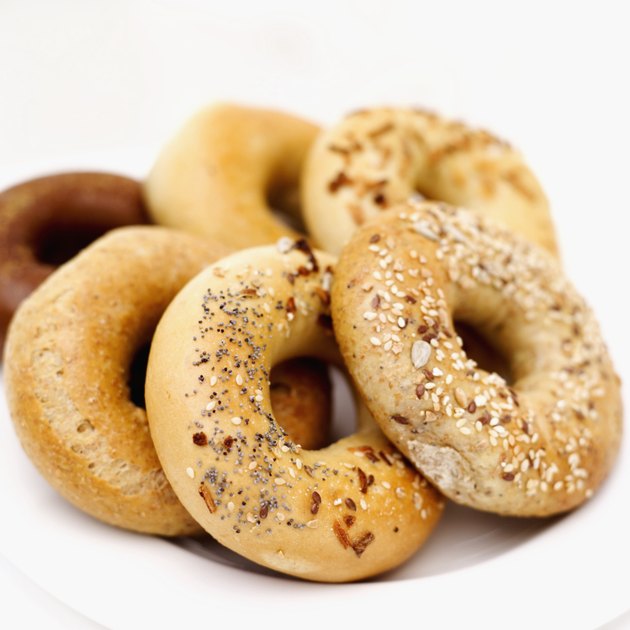 Nutrition Information
A standard bagel is not necessarily bad for you. It is mainly flour, a rising agent, salt, water and some sugar or other sweetener. As an example, a medium plain bagel contains about 289 calories and 1.68 g of fat. It has no cholesterol, but it does contain 561 g of sodium. However, it also contains 2.4 g of fiber and 11.03 g of protein. On its own, a plain bagel is not loaded with bad ingredients.
Carbohydrates
Bagels can become bad for you when you eat too many of them, particularly because they are high in carbohydrates. According to the Centers for Disease Control and Prevention, your body needs carbs to break down into glucose, the simple sugar molecule that provides fuel for your body. However, when you eat more carbohydrates than you burn, your body stores the glucose as fat. According to the U.S. Department of Agriculture Nutrient Data Laboratory, one plain bagel contains more than 56 g of carbohydrates. If you eat too many, you can easily get too many carbs, which your body will then store as fat. You should maintain only 45 to 65 percent of your daily caloric intake from carbohydrates.
Types of Bagels
The type of bagel matters as well when considering nutritional value. A multigrain or whole-wheat bagel is a healthier choice, since it will be higher in fiber and nutrients found in unrefined flour. However, many flavored bagels have additional sugar, cheese or other ingredients that might lessen the nutritional value.
Toppings
Unhealthful toppings can make bagels bad for you, while healthful ones can help make bagels a good choice for breakfast or a snack. Cream cheese and butter, two of the most popular bagel toppings, are high in fat and empty calories, making them unhealthful additions to your bagel. However, low-fat peanut butter, low-fat cheese, reduced-sugar jam or fresh fruit can add flavor and interest to your bagel without piling on fat and sugar.