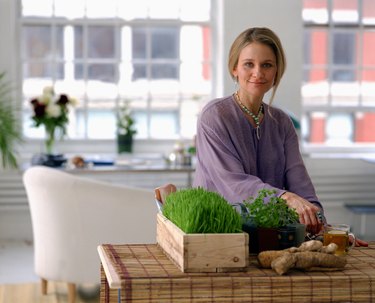 Type 2 diabetes mellitus or adult-onset diabetes is a chronic disease that is becoming increasingly common. This metabolic condition develops when your body does not produce adequate levels of the hormone insulin, which transports sugar, or glucose, from the blood into the cells where it can be used for energy. High blood glucose levels, or hyperglycemia, can lead to serious effects on the body, including nerve damage, heart disease and even blindness. The hemoglobin A1C test is used to diagnose diabetes and also check average blood glucose levels for the past two to three months.
Step 1
Schedule an appointment with your primary care physician or endocrinologist to have your blood glucose levels checked with a hemoglobin A1C test. This will determine your average blood glucose levels for approximately the last three months to gauge whether your diabetes is under control. Discuss a complete treatment plan with your doctor involving prescription medications, nutrition, exercise and herbal supplements. It is best to try new herbal supplements one at a time to ensure that you do not have any adverse reactions. Once you have tried them for several weeks to months, it is safe to take supplements such as garlic, cinnamon and bitter melon together or in combined forms.
Step 2
Take raw garlic extract supplements as directed on the product label. Take this herbal supplement in addition to your prescribed medication and diet plan. Research published in "The Journal of Nutrition" showed that ingesting raw garlic can effectively reduce blood glucose levels as wells as cholesterol and triglyceride fat levels. Though this study was conducted on rats, garlic may have similar effects in people.
Step 3
Add a half teaspoon of cinnamon powder to your daily diet by stirring it into your tea or coffee or sprinkling it over cereal or yogurt, for example. Alternatively, take a cinnamon herbal supplement as directed on the product label. Cinnamon has natural insulin-like properties, which may help to lower daily blood glucose levels and hemoglobin A1C test results.
Step 4
Take a bitter melon herbal supplement as a daily remedy to help control blood glucose levels along with your prescribed diabetes treatment. Follow the recommended dosage on the product label. Diabetes-Diabetic-Diet.com recommends the equivalent of 50 to 60 ml of bitter melon juice per day. This herb, also known as bitter gourd, bitter cucumber, karela and charantin, is traditionally used in Southeast Asia as a diabetes remedy. Bitter melon herbal supplement is thought to contain an insulin-like protein called polypeptide-P or plant insulin that acts on the body to reduce blood glucose levels.
Things You'll Need
Garlic capsules

Cinnamon powder capsules

Bitter melon capsules
Tip
Successful diabetes treatment involves several components, including careful meal planning, regular physical activity, prescription medication and stringent monitoring of blood sugar levels three or more times a day. Herbal supplements can be added to a diabetes treatment program with the supervision of your doctor.
Consult a nutritionist to help organize a weekly meal plan for your condition; knowing what you should be eating and having the ingredients available beforehand makes it easier to eat a balanced diet for diabetes.
Try whole grain, fiber-rich replacements for foods such as rice and pasta to help stabilize blood sugar levels. These include barley and quinoa. Bread and baked goods made from barley and oatmeal or spelt flour are also a healthy alternative for people with diabetes.
Warning
The Diabetes and Hormone Center of the Pacific warns that herbal remedies are unregulated and may not be prepared and marketed according to set standards. Hence, it is important to purchase reputable brands and read the label carefully to ensure you are not allergic to any of the ingredients. Consult your doctor or nutritionist about known supplement brands to purchase. Though herbal remedies are often thought to be safe because they are natural, they are also potent medications and can cause serious side effects. Do not take herbal supplements without the supervision of your doctor. Additionally, herbal supplements can enhance but not replace a complete diabetes treatment program that may include prescription medication, nutrition and exercise.