Levaquin — or levofloxacin — is an antibiotic. It falls under the classification of quinolone, used to treat infections caused by bacteria or fungi. Your doctor may prescribe this medication to treat anything from bronchitis to pneumonia to urinary tract infections. Even some skin infections are managed with this drug. As with any medication, certain precautions are recommended, some of which include dietary restrictions. Dietary restrictions can help prevent adverse reactions and ensure the drug works well. Talk to your doctor to determine exactly what dietary restrictions to follow.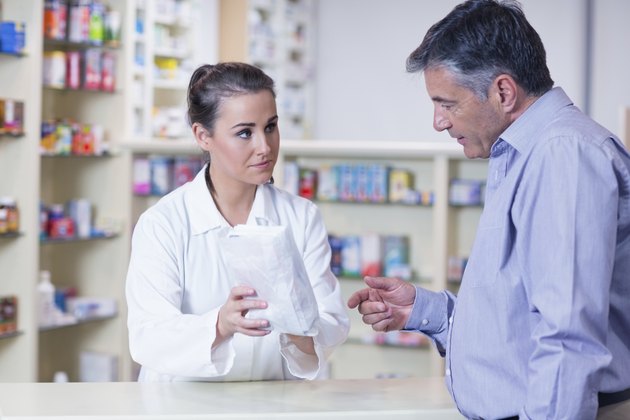 Caffeine
According to Colorado State University, you should avoid eating or drinking any foods or beverages containing caffeine. When this stimulant is consumed while taking Levaquin, you may experience an increase in caffeine levels, which can lead to nervousness and excitability. Coffee often contains the most caffeine, but it's also found in tea, soda, energy drinks and chocolate.
Calcium
Besides caffeine, you may also need to avoid calcium. The University of Maryland Medical Center explains that calcium can interfere with absorption of quinolone antibiotics, including levofloxacin. While this interaction is more often related to calcium supplements, which should be used two to four hours before or after taking Levaquin, you may also need to avoid foods and beverages containing this mineral within the same time frame. Talk to your doctor to determine if this applies to you.
Meals
Depending on the form of Levaquin, dietary restrictions may apply not only to the food itself but also to the timing of your meals. When using an oral solution of levofloxacin, the medication should be taken at least one hour before a meal, advises the U.S. National Library of Medicine. If you've already eaten, you'll need to wait at least two hours before taking the drug.
Fluids
No other dietary restrictions are listed for this medication. However, the National Center for Biotechnology Information does recommend drinking plenty of fluids each day while on levofloxacin. Water is your best choice, but you can also drink juices, sports drinks and other caffeine-free beverages. This is the only special dietary instruction that applies to this drug, but talk to your doctor to see if any other precautions are necessary.