It is difficult to argue with the convenience of boxed cake mixes. And, with a few minor adaptations, you can have the convenience of a boxed cake with the presentation and taste of a cake made from scratch. Most boxed cakes call the addition of oil, water and eggs. When you set out to make your additions and alterations, keep the liquid balance of the original ingredients in mind. For a moist and delicious carrot cake with a homemade taste, substitute part or all of the oil with applesauce or crushed pineapple and add freshly shredded carrots.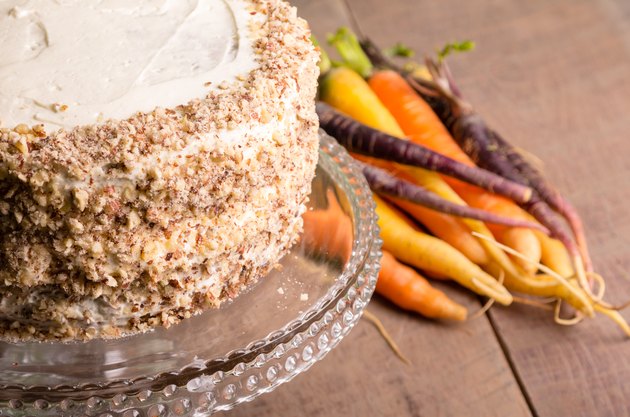 Step 1
Preheat the oven according to the mix instructions.
Step 2
Peel and shred carrots using a grater or food processor.
Step 3
Read the cake mix instructions to determine the amount of oil it requires.
Step 4
Measure applesauce or crushed pineapple to replace one-half to all of the oil in a 1-to-1 ratio. For example, if the box calls for ¾ cup of oil, use up to ¾ cup of applesauce or crushed pineapple. The total amount of oil and fruit should not exceed the amount of oil noted on the box directions.
Step 5
Follow the box instructions to mix the cake batter and add the fruit and oil mixture just as the box instructs you to add the oil.
Step 6
Stir in the shredded carrots just before you pour the cake batter into the baking pan or pans.
Step 7
Bake the cake until a knife or toothpick inserted in the center comes out clean. The cake may take five to 10 minutes longer than the baking time on the box indicates because of your substitutions and additions.
Things You'll Need
Applesauce or crushed pineapple

1 cup shredded carrots

Vegetable peeler

Grater or food processor