Cooking tender steaks can be difficult if you have a less-expensive and tougher cut of meat. The muscle fibers in meat have to be broken down and the proteins turned into gelatin in order to make meat tender. This happens very quickly over high heat with tender cuts of steak like filet mignon, but tougher cuts of meat require slow cooking, usually in some sort of liquid to keep them from drying out. So, while it may seem counterintuitive, the best way to fix a chewy steaks is to put them back in a skillet and cook them some more.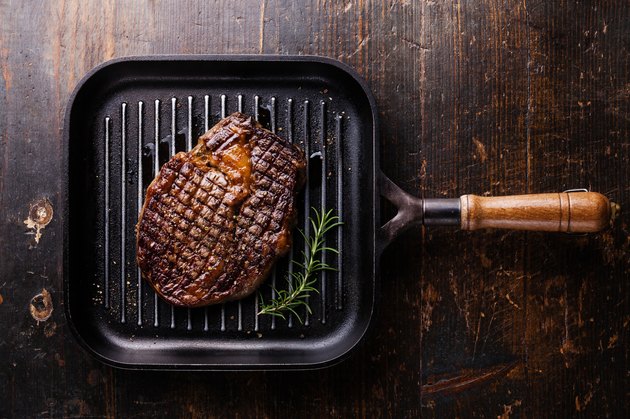 Step 1
Coat the bottom of a heavy skillet with olive oil. This adds a little flavor and helps keep the steaks from sticking.
Step 2
Heat the olive oil over medium high until you can just begin to smell it.
Step 3
Place the steaks in the hot oil.
Step 4
Add enough liquid to come halfway up the sides of the steaks. Broth will work, and so will water. Add an equal amount of wine to either, because the acids will help break down the meat. Don't use wine or any other alcohol alone because it will evaporate too quickly.
Step 5
Bring the liquid to a slow boil and cover the skillet tightly. Turn the heat down so that the liquid is barely simmering and cook the steaks for at least 20 minutes.
Things You'll Need
Skillet with lid

Olive oil

Broth or water

Wine
Tip
Marinate tough cuts of meat overnight before cooking to help break down the tough muscle fibers.
Warning
Never use the same utensils or serving pieces for both raw and cooked meats.