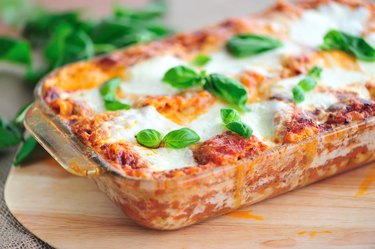 Lasagna sheets form the foundation for your homemade lasagna dish. If you cook them improperly, they can be either too hard and difficult to chew or too soft and flavorless.
Tip
Lasagna sheets should be boiled for roughly eight minutes, or until they have the desired tenderness.
How to Make Lasagna
There are many ways to make lasagna, which can range from cheesy and beefy to light and vegetarian. There are also different kinds of pasta sheets you can use. Traditionally, the pasta is a flat sheet that you boil in water. However, some brands make wavy pasta, while others sell no-boil sheets that you can just throw in the oven.
The filling of the lasagna and the sheets are the two basic parts of the dish. Tomato sauce is generally the base of the filling, along with herbs like basil and oregano. Ground beef or ground turkey are two typical meat fillings used in lasagna. Using ground meat helps it spread evenly throughout the dish.
Our LIVESTRONG.com oven-baked lasagna recipe calls for sausage and beef for the meat filling. It also uses tomato sauce, ricotta cheese, mozzarella, Parmesan and one egg.
Start by heating two tablespoons of olive oil in a saute pan over medium heat. Add both meats and season as desired. Cook until they're browned. Drain off the fat, then add the tomato sauce.
Fill a large pot with water, add salt and then bring to a boil. Add the lasagna sheets and cook for about 8 minutes. At the same time, preheat your oven to 375 degrees Fahrenheit and let it sit for about 30 minutes.
Take out a baking pan and add a layer of meat sauce to the bottom. Top it with six pieces of lasagna sheets, one-third of the ricotta mixture, one-third of the mozzarella slices and one-third of the Parmesan. Repeat until you have three layers, top with Parmesan and then put it in the oven.
Bake the lasagna for about 30 minutes or until you see the sauce bubbling. With the beef and cheese, there's a lot of fat in lasagna, but pasta sheets aren't too high in calories. According to the USDA, one sheet has about 170 calories, 6 grams of protein, 1 gram of fat and 34 grams of carbs.
How to Boil Lasagna Sheets
To boil the pasta sheets, you'll need a large pot of water. Add 4 to 6 liters of water to a pot and bring it to a rolling boil. Before you add the pasta, sprinkle in a pinch or two of salt.
Once the water is ready, you can add the pasta. Leave the pot uncovered and cook the pasta for about eight minutes. Try to stir the pasta while it cooks, keeping the sheets separate from each other. When it's done cooking, drain the pasta and leave it on a baking sheet to dry.
No-cook lasagna has become increasingly popular. There's no boiling required if you use this LIVESTRONG.com baked pasta recipe. You simply remove the pasta from the package and layer it into your baking dish before putting it in the oven. The pasta cooks in the oven with the help of the moisture from the sauce.
If you didn't let your lasagna sheets boil long enough or you used the no-cook version, the sauce added to the filling will help improve their texture. According to a March 2018 study published in Food Science and Technology Research, adding sauce to under-cooked pasta makes it softer.
Don't Fear the Carbs
Some nutrition and fitness professionals point to pasta (and carbohydrates, in general) as the culprit for fat gain. There are many low-carbohydrate diets, such as the Atkins diet, which replace carbohydrates with protein and fat.
Pasta is an important food in countries like Italy, where the ingredients are more commonly made at home than processed. However, an April 2016 study published in the Federation of American Societies for Experimental Biology Journal and conducted on over 14,000 Italians has found that pasta consumption was inversely associated with body mass index, which is a combination of height and weight.
While this study isn't absolute proof that pasta is good to eat, it shows that it's probably not the cause of obesity. If you're worried about weight gain from pasta, you can add fewer sheets to your lasagna in the layering process. This can significantly reduce its calorie count and carb content.