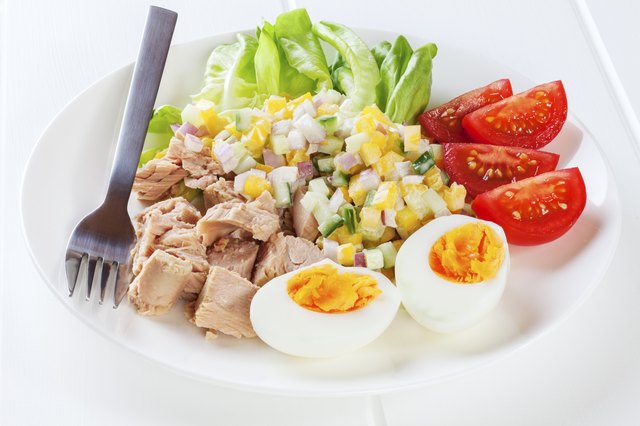 A diet that includes nothing but tuna and eggs will certainly help you lose weight because it's low in calories and high in protein, which makes you feel full. Keep in mind, however, that it's a restrictive diet and quite low in calories. Don't stay on it for more than a few days unless you consult your health care provider. You may find formal guidelines and a menu to follow for a three-day tuna diet, but the tuna and egg diet doesn't have set standards, so feel free to make it more balanced by adding nutrient-dense foods.
Calories in a Tuna and Egg Weight-Loss Diet
Watching your caloric intake while balancing it with activity that burns calories is the way to lose weight, but with a strict tuna and egg diet, you'll need to be careful about getting too few calories. One large hard-boiled egg has 78 calories, a 3-ounce serving of light tuna canned in water has 73 calories, and the same portion of cooked skipjack tuna contains 112 calories. If every meal included one egg and 3 ounces of light tuna -- and you ate six meals a day -- you would only get 906 calories. Even if your six meals consisted of 6 ounces of skipjack tuna and an egg, you'd only consume 1,812 calories.
At 906 calories, this diet is close to being a very-low-calorie diet, which is medically defined as 800 calories daily or less. A diet that provides fewer than 1,000 calories daily has a physiological effect similar to starvation, reports the University of California, Los Angeles. This is why it's not healthy to follow a strict tuna and egg diet more than a few days unless you're under a doctor's supervision. Another downside to severe calorie restriction is that you're likely to regain pounds when you go off the diet. Losing weight at the rate of 1 to 2 pounds a week is a better way to keep the weight off.
Tuna and Egg Nutrients
A tuna and egg diet delivers nutrient highs and lows. You'll get plenty of protein, as it only takes one egg and 3 ounces of tuna to provide nearly half of the daily requirement. The combination of tuna and eggs also supplies enough niacin, vitamin B-12 and selenium, but you won't reach the recommended daily intake for most other nutrients. You'll be short on calcium, potassium and vitamin E, and you won't consume any carbohydrate, fiber, vitamin C or vitamin K. For a few days, you can boost nutrients by taking a multivitamin supplement.
When you don't consume glucose-containing carbs, or you're in a fasting state due to low calories, stored fat breaks down and is converted into ketones, which the brain and other organs use for energy. While this helps you lose weight, the ketones can build up in your blood, which can cause nausea, headache, mental fatigue and bad breath. The body also converts amino acids into glucose when necessary. The problem with relying on fats and proteins for energy is that they're not available to fill other vital roles, such as building muscles and producing enzymes.
Risks of Mercury and Cholesterol
Anyone on a diet that revolves around tuna and eggs must consider concerns about mercury and cholesterol. All types of tuna have mercury, but some are worse than others. Canned light tuna and fresh skipjack contain a moderate amount, while canned white albacore tuna and yellowfin have high levels of mercury, reports the Natural Resources Defense Council. Canned light tuna and skipjack should be limited to no more than 36 ounces, or 12 servings of 3 ounces each, a month. You shouldn't eat more than 18 ounces of fish with high mercury in a month.
Cholesterol from food has a small effect on blood levels of cholesterol in most people. Egg consumption is not associated with an increased risk of cardiovascular disease, reported the American Journal of Clinical Nutrition. Most healthy people can safely eat up to one egg a day, but if you have high cholesterol, diabetes or heart disease, don't eat more than three yolks weekly. It's also important to stay aware of selenium in this diet. Three ounces of canned light tuna contain 60 micrograms of selenium, and one hard-boiled egg adds another 15 micrograms. Selenium becomes toxic if you consume more than 400 micrograms daily, so keep track of the amount you eat.
Nutritionally Balanced Tuna and Egg Diet
Because there aren't any formal guidelines about how to implement the tuna and egg diet, you can make it better balanced by adding a few nutrient-rich foods. Some of the top choices for carbs and fiber are whole grains and beans. If you eat 1/2 cup of quinoa or white beans, you'll gain 111 calories and 124 calories, respectively, but they both provide 20 grams of carbs, and they're good sources of protein and fiber. You could simply add a cup of fat-free milk or put your tuna on a slice of whole-wheat bread. They both contribute about 80 calories and 12 grams of carbs. Milk also adds nearly a third of your daily calcium. You'll boost the vitamins missing from tuna and egg -- and add some low-calorie variety -- by mixing tuna with chopped leafy greens, tomatoes and sweet peppers.