The manufacturers of slow cookers, as well as university extension offices, do not advise reheating food directly in the appliance. Because a slow cooker takes several hours to heat food, it's not only time-consuming to use the appliance for reheating food but possibly unsafe. Bacteria may grow in the food during the cooking time and result in foodborne illness. However, both resources offer some options for reheating. Use a microwave or stove for the initial heating and finish the reheating in the slow cooker.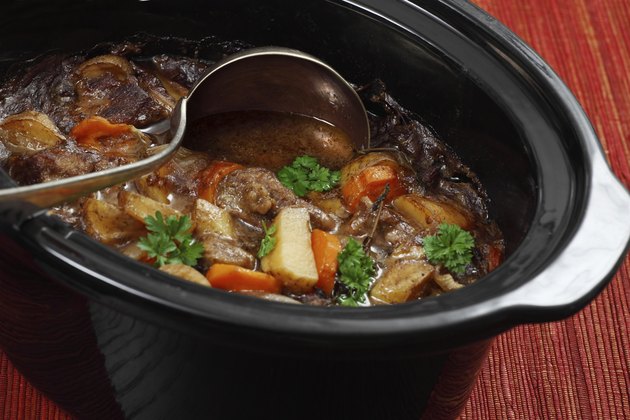 Step 1
Turn the slow cooker on the high setting to preheat the appliance.
Step 2
Fill the crock insert at least 1/2 full with food, but fill it no more than 2/3 full.
Step 3
Place the crock in an oven preheated to 350 degrees Fahrenheit or in the microwave. Do not place the crock in the oven or microwave with its lid on.
Step 4
Heat the food until it reaches 165 degrees Fahrenheit as measured with a food thermometer. Insert the meat thermometer into the middle of the food or into the thickest part of a piece of meat to measure the temperature.
Step 5
Remove the crock from the stove or microwave.
Step 6
Place the crock into the slow cooker warming unit to keep the food warm.
Step 7
Turn the temperature down on the slow cooker to the low or warm setting.
Warning
Do not place slow cookers with any plastic parts in the oven.