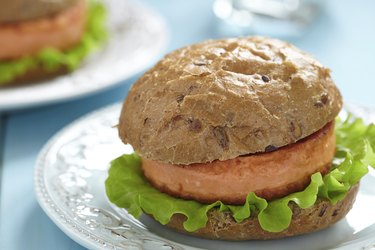 Salmon burgers have slightly different flavor profiles depending on the use of seasonings and fresh or canned salmon, and the toppings really make or break a great burger. There's a range of toppings beyond the typical lettuce, tomato and onion accompaniments that elevate a salmon burger to something special. Salmon is full of heart-healthy omega-3 fatty acids so keep the rest of your ingredients fresh, light and low in sodium to enhance the health benefits.
Vegetables
Vegetables are natural toppings for burgers but don't just slice a few rounds and call it a day. Get the coleslaw off your plate and up onto your burger, jazzed up with hot sauce or sesame oil. Substitute jarred pickles with freshly pickled cucumbers. Soak very thin slices of cucumber in vinegar, salt and sugar for an hour, then drain and add to burgers. Saute leeks and mushrooms for an earthy flavor, or top with wilted greens, such as chard or spinach, for color and nutrients.
Fruit
Fruit flavors add a surprising twist to salmon burgers. A tropical salsa, made with mango or papaya, along with red onions, lime juice and cilantro, enhances the slight sweetness of the salmon. Make an apricot glaze and use it to grill salmon burgers and brush on the finished product. Pineapple rings are perfectly sized for a burger brushed with teriyaki sauce. Fruit butters, such as cherry or pear, add unique flavor.
Condiments
If you can't live without ketchup or mayonnaise on a burger, dress them up with curry spices or chipotle sauce. Make a quick chimichurri sauce in a blender with fresh parsley, oregano, olive oil and vinegar or just use a good commercial pesto sauce. Tartar sauce is a natural for a fish burger, but making your own and substituting finely diced tomatoes for the relish or pickles is easy and changes the flavor profile. Use green tomatillo salsa for a mild punch of color or add soy sauce to prepared mustard for a tangy, smoky flavor.
Cheese
Think beyond melting a slice of cheddar on a salmon burger to flavors that enhance and complement the fish. Salmon stands up well to strong flavors, so mix blue cheese, goat cheese or feta cheese with a little sour cream and fresh herbs in a blender and spread on burgers. Mild, soft white cheeses frequently sold in small tubs are ideal for spreading on burgers with tangy condiments.