Cod is relatively inexpensive, simple to cook and it makes an excellent addition to a healthy diet. One 3-1/2 oz. serving of fresh cod fish contains only 85 calories and offers protein and heart-healthy omega-3 fatty acids. Cooking cod fillets should be done simply and with moist heat to keep them from drying out. Baking cod fillets wrapped up snugly in aluminum foil brings out the best of their delicate, mild taste and firm texture.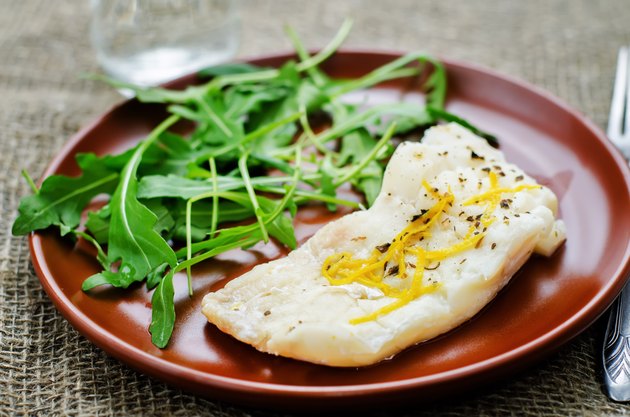 Step 1
Preheat an oven to 375 Fahrenheit.
Step 2
Lay a large piece of aluminum foil on a baking sheet. Spray the aluminum foil with nonstick cooking spray.
Step 3
Rinse the cod fillets with cool water and pat them dry with paper towels.
Step 4
Season the fillets on both sides with salt and pepper to taste and place them on the greased aluminum foil.
Step 5
Place thin lemon slices on the cod fillets and sprinkle them with ginger and nutmeg to taste. Drizzle a little bit of olive oil on top of the lemon slices to help keep the fish moist.
Step 6
Fold up the sides of the aluminum foil, and then the ends, sealing the fish tightly.
Step 7
Bake the fish for 10 minutes. Open the foil and scrape gently at the fish with a fork. It is cooked through when the flesh flakes easily and the color has turned opaque all the way through.
Things You'll Need
Baking sheet

Aluminum foil

Nonstick cooking spray

Paper towels

Salt

Pepper

Lemon, thinly sliced

Fresh ginger

Nutmeg

Olive oil
Tips
Splash a little white wine on the fish before cooking it for a bit of extra flavor.
Warning
Never overcook cod; it becomes very tough when it dries out.