All plants foods contain fiber, an indigestible substance that promotes bowel regularity and provides other health benefits. The "2015-2020 Dietary Guidelines for Americans" recommends roughly 25 to 30 g of fiber daily for adults. It's best to meet your daily fiber needs through your diet, but a fiber supplement can be used if you're falling short of this goal. Benefiber contains wheat dextrin, a type of soluble fiber. Fiber supplements generally do not pose any serious health concerns. However, there are some possible side effects and precautions to keep in mind. Talk with your doctor before taking any nutritional supplement.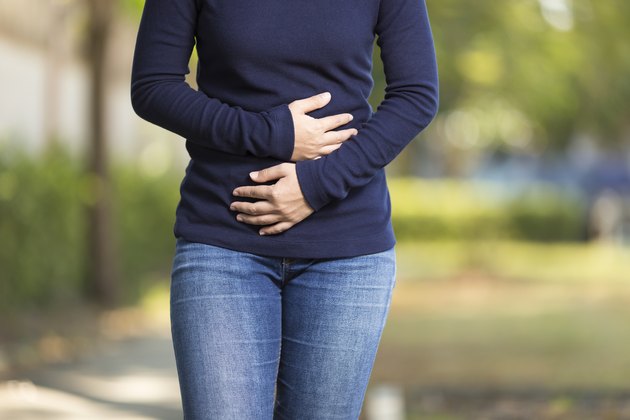 Bloating and Gas
Benefiber forms a watery gel in your digestive system. Normal bacteria in your colon ferment this gel, a process that leads to release of gases. This can cause bloating, increased intestinal gas, a noisy stomach and possibly cramps. According to a January 2010 article in the "Annals of Nutrition and Metabolism," these effects are usually mild and most commonly occur when you first start taking a fiber supplement. Starting off with a smaller amount and gradually increasing the dose over several weeks can help reduce these side effects.
Constipation
Benefiber bulks up and softens the stool, promoting regular and easier bowel movements. If fiber supplements are taken without sufficient fluid intake, however, they can potentially lead to or worsen constipation. Benefiber directions recommend that each 2-teaspoon dose should be dissolved in 4 to 8 ounces of fluid or soft food, such as applesauce, yogurt or pudding. Drinking sufficient water throughout the day is also important to help avoid constipation. If you have chronic constipation, talk with your doctor before beginning a fiber supplement.
Medication Interactions
Fiber supplements like Benefiber can potentially reduce the absorption of some medications. The University of Maryland Medical Center reports that fiber supplements might reduce the effectiveness of: -- tricyclic antidepressants, such as amitriptyline, doxepin (Silenor) and imipramine (Tofranil) -- cholesterol-reducing medications called bile sequestrants, including cholestyramine (Prevalite) and colestipol (Colestid) -- the heart medication digoxin (Lanoxin) -- certain diabetes drugs, including metformin (Glucophage, Glumetza, Fortamet) and glyburide (Diabeta, Glynase) -- the antiseizure drug carbamazepine (Tegretol) -- lithium, a medicine used to treat bipolar disorder
If you take any prescription or over-the-counter medications, talk with your doctor before taking fiber supplements to be sure there are no interactions. This is especially important if you take diabetes medicines because fiber supplements might cause a reduced blood sugar level, or hypoglycemia.
Other Cautionary Notes
The manufacturer's instructions state that Benefiber should be dissolved in fluid or a soft food. While the product does not thicken like some other fiber supplements, talk with your doctor before taking any fiber supplement if you have difficulty swallowing or narrowing of your esophagus. Additionally, taking too much fiber can negatively affect intestinal health in certain instances, such as during a flareup of inflammatory bowel disease. Check with your doctor about taking Benefiber if you have celiac disease. Although the product is labeled gluten-free, it has very low levels of gluten -- less than 20 parts per million of gluten, which allows the manufacturer to label the product gluten-free per U.S. Food and Drug Administration regulations.
Reviewed by: Tina M. St. John, M.D.