Coffee, in all its many forms, is enjoyed by 83 percent of American adults, according to a 2013 report from the National Coffee Association. The potential health benefits of coffee have drawn the attention of researchers, the media and the public. Although most people are able to drink coffee without digestive system problems, some people may experience gas or an upset stomach. Use of dairy products in coffee could also be responsible for these symptoms.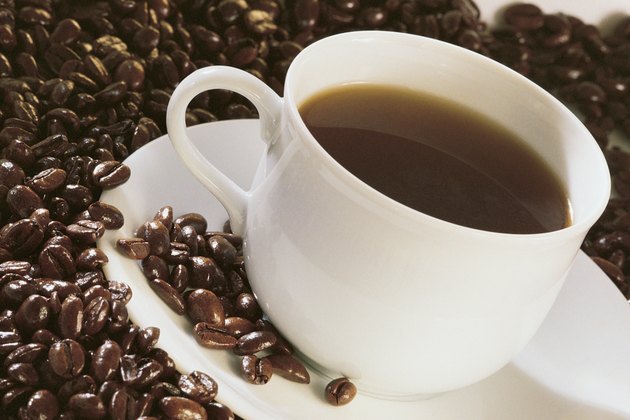 Indigestion and Coffee
Many people drink coffee, in part, because of its caffeine content. Caffeine increases mental awareness but also stimulates stomach acid production. This can result in stomach discomfort, especially if an ulcer is present. Indigestion, or dyspepsia, is a term used to describe feeling uncomfortable, having an upset stomach and sometimes bloating or gas that occurs after eating or drinking. The American College of Gastroenterology recommends abstaining from coffee, alcohol and carbonated drinks as a possible way to relieve indigestion.
Lactose Intolerance
Many coffee beverages, particularly lattes, contain dairy products such as milk and cream. A common cause of gastric discomfort is lactose intolerance, a condition that makes dairy products difficult to digest. According to the authors of a December 2013 article in the "European Review of Medical and Pharmacological Sciences," more than 75 percent of the world's population develops some degree of lactose intolerance, with symptoms starting as late as age 65 or older. Symptoms can include abdominal pain, bloating, flatulence and diarrhea. Decreasing or eliminating dairy products, using soy or other alternatives or using lactase products may help relieve symptoms of lactose intolerance.
Colonic Motility and Coffee
Coffee can speed up the rate at which food flows through the bowels, referred to as increased colonic motility. This increased flow rate is generally considered to be a health benefit. Although rare, some individuals who drink a lot of coffee may increase the flow rate to the point of causing cramping or discomfort, especially if they have an underlying condition causing inflammation in the bowels. Because decaffeinated coffee does not increase colonic motility as much as caffeinated coffee does, it may be a possible alternative.
Tips for Symptom Relief
Abstaining from coffee is a good way to determine if it is the cause of gas or an upset stomach. If this seems too drastic, switching coffee habits may also help reduce these symptoms. Try drinking coffee without dairy products to see if lactose intolerance is actually causing the symptoms. Alternatively, cutting down on overall coffee consumption, drinking coffee only with meals or switching to decaffeinated coffee may help relieve symptoms of indigestion, including gas or an upset stomach. If you have new or persistent problems with stomach upset or gas, see your doctor to determine the cause and appropriate treatment.