Most people associate too much caffeine with an upset stomach. While it's true that this is one of several symptoms that go along with caffeine overconsumption, there's little scientific evidence to suggest that coffee can cause serious gastrointestinal issues.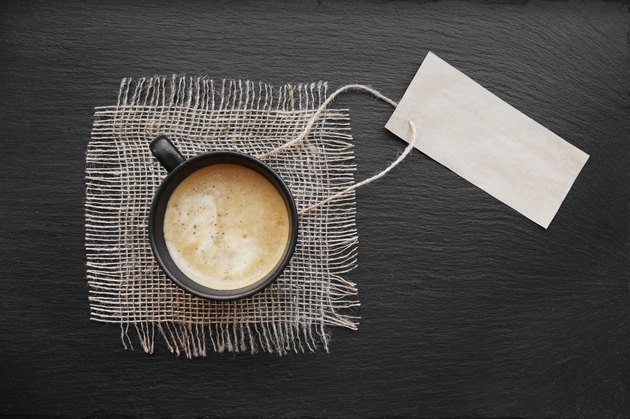 Over the years, popular misconceptions have linked caffeine with digestive problems both simple (the sudden need to poop) and serious (like gastric cancer). Some people even think of coffee as an upset stomach remedy. Here are the facts on how much caffeine has to do with these situations, and if caffeine isn't too blame for your upset stomach, what you might be able to do to soothe it.
Caffeine and an Upset Stomach
For most healthy adults, caffeine can be consumed in moderate amounts with no real problems. The emphasis there is on the word "moderate." Many experts recommend capping your daily intake around 400 milligrams of caffeine, the amount in approximately four cups of coffee. If you have any more than that — and you probably know lots of people who do — you might start to feel negative side effects, including an upset stomach.
Caffeine is known to stimulate the release of stomach acid in your digestive system, which could indeed lead to an upset stomach or heartburn. Characterized by pain in the chest or throat, heartburn happens when stomach acid backs up into your esophagus. People with frequent heartburn might suffer from gastroesophageal reflux disease and should avoid caffeine to avoid making it worse.
What Does Science Say?
A scrutinous look by scientists at the association between caffeine and an upset stomach has been going on for more than 20 years.
In 1999, a review published in the Scandinavian Journal of Gastroenterology examined how much scientific evidence there is to support the advice some doctors give about cutting back on coffee to ease gastrointestinal disorders. Specifically, the review looked at ulcers, heartburn, gastric motor function, small intestinal secretion and transit, gallbladder contractility and colonic motor activity.
Although the gastrointestinal system can be stimulated by a variety of factors — caloric content, acidity, osmolality and volume load — it's not clear why coffee would have any influence. Coffee is low in calories, not very acidic, is osmotically similar to water and isn't usually consumed in excessive volumes.
The review assessed that there's no association between coffee ingestion and either peptic ulcers or dyspepsia; that coffee may promote gastroesophageal disease, though the mechanisms behind why are not clear; that coffee stimulates gallbladder contractions, which explains why people with gallstones need to avoid coffee; and that coffee stimulates colonic activity in some people.
The study even notes that coffee has effects on the colon you would normally see from a 1,000-calorie meal, and that coffee does stimulate gastric acid secretion. However, these observations were made of both caffeinated coffee and decaf coffee, so there's likely a pharmacological reason that coffee works this way. More research, the review concluded, would need to be done.
Over the years, more studies have attempted to explain how coffee influences people's digestive systems. A study published in June 2014 in Molecular Nutrition and Food Research found that a dark roast blend stimulated less gastric acid secretion than the market blend even though both contained the same amount of caffeine.
This furthers the evidence that it is another compound in coffee besides caffeine that affects digestion, as the different roasting brought out different concentrations of compounds in the coffee grounds.
Another study, this one published in June 2013 in PLOS One, joined the trend of noting that most people accept coffee has an effect on gastrointestinal disorders even if there's no evidence of this. The study looked at more than 9,000 healthy adults but found no association between coffee consumption and any of the four major acid-related upper-gastro diseases: gastric ulcer, duodenal ulcers, reflux esophagitis and non-erosive reflux disease.
Finally, one other study published in September 2015 in Medicine deemed coffee consumption does not cause gastric cancer, though high coffee consumption (more than 6 cups a day) may increase your risk. The article acknowledged that it did not take into consideration any other lifestyle factors, such as smoking, so its results might be unreliable.
On the flip side, don't count on coffee as an upset stomach remedy either. An October-December 2013 study published by the Journal of Anesthesiology Clinical Pharmacology looked at whether caffeine could be used to alleviate postoperative nausea and vomiting, which are common after surgeries that are performed under anesthesia, but it concluded that caffeine was not effective in this way.
A Cure for Your Stomachache