Your goal to lose 5 pounds from the waistline might be the result of wanting to fit into your old pair of jeans or look great at a formal event. But there's a more important reason to lose belly fat — your health.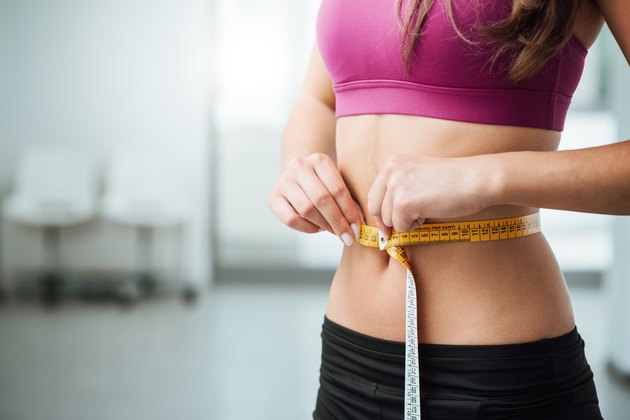 The fat around your waist is potentially the most dangerous, as it's a major risk factor for heart disease, type 2 diabetes and certain types of cancer. The bad news is you can't choose where you gain weight nor where you lose weight.
If you're genetically predisposed to first lose weight from the belly area, then the 5 pounds you lose will come from that area. Or it might come from your other parts of your body, too. So you'll need to focus on whole-body weight loss through a healthy diet and exercise to see results in all areas.
Clean up Your Diet
Healthy eating habits starts you on the road to inches lost. There are a few basics you can try, such as swapping high-calorie snacks for fresh fruits and vegetables. and choosing low-fat poultry and fish over high-fat red meat, lamb and veal. Consume whole-grain products, such as brown rice, whole-wheat pasta and whole grain bread, rather than refined white bread and white rice.
More importantly, though, you should cut back on sugar and sugar-sweetened drinks. Research published in The Journal of Clinical Investigation noted that excess sugar intake leads to belly fat accumulation. Instead, increase your protein and fat consumption while cutting back on your carbohydrate intake.
Make Exercise a Priority
Exercising helps create a calorie deficit. When you burn more calories than you consume, you lose both weight and inches. Cleveland Clinic recommends a minimum of 30 minutes per day 5 to 7 days per week of cardiovascular exercise. Choose from activities such as swimming, walking, rowing, using an elliptical trainer or cycling.
Strength training builds muscle; the more muscle you have, the more calories and fat you burn. This also helps whittle away inches more rapidly. MayoClinic.com recommends 2 to 3 sessions per week, lasting 20 to 30 minutes each.
Plan these every other day, giving your muscles time to recover. Begin with 12 repetitions of each exercise, the 12th being hard to complete. When it becomes easy, increase the number of reps. Once you reach 15 reps, increase the amount of weight you use.
Barbells and dumbbells are the most common; begin with no more than 5 pounds. You can also use your own body weight by doing pushups, pull-ups or abdominal crunches.