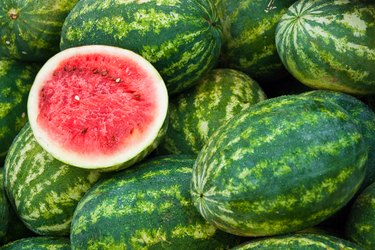 How do you know if you've bought an under-ripe watermelon? How about an over-ripe watermelon? Indications such as the sound the watermelon makes when hit or the texture of its surface can help provide answers.
Tip
If you hear a dull thud when thumping a watermelon, this may indicate that it's over-ripe or mealy.
All About Watermelons
As its name suggests, watermelon is composed mostly of water. In fact, water makes up nearly 90 percent of a watermelon, says the University of Illinois Extension. In one wedge of watermelon (approximately 286 grams or 1/16 of a watermelon), you'll find approximately 320 milligrams of potassium, 1.14 grams of dietary fiber, 1.74 grams of protein, 23.2 milligrams of vitamin C and 1,630 international units of vitamin A.
A long, hot summer free of weeds and cucumber beetles — common watermelon pests — will keep the fruit sweet, tasty and fully intact.
Is This an Overripe Watermelon?
Unlike many fruits, such as cantaloupes or plums, watermelon doesn't continue to ripen once it's been picked, explains the University of Illinois Extension. Therefore, it's important to know what to look out for when removing a watermelon from the vine. For example, a ripe watermelon will become brown and dry at the stem, whereas it was once light green. In addition, the surface of the watermelon turns dull, and its skin becomes tougher.
Unlike muskmelons, like honeydew or cantaloupe, watermelon doesn't slip from the vine or release an odor when ripening. Rather, the part of the watermelon that had been sitting in soil turns from pale green to white or yellow, says the Master Gardener Association of San Diego County. A specific type of watermelon, Charleston Greys, has glossy rinds before they ripen and become matte when they're ready to eat, explains the USDA.
But how do you know when you've chosen an overripe watermelon? Contrary to popular belief, hearing a thud when thumping a watermelon does not denote that it's ripe. However, a dull thud may indicate a mulchy or mealy watermelon that's overripe.
Storage and Recipes
If stored for longer than two weeks, watermelon will begin to lose its crispness and flavor. Interestingly, though, if the fruit is kept at room temperature for a few days, the flavor may intensify. The improved flavor may be attributable to lowered acidity in watermelons that are slightly immature.
If you're looking for ways to use your watermelon before it goes bad, the University of Illinois Extension suggests making a watermelon granita with 5 cups of seeded watermelon pulp, 1 cup of sugar syrup and 2 tablespoons of fresh lemon juice. Puree and freeze.
Also recommended is our Recovery Smoothie, which features fresh watermelon, plain Greek yogurt, honey and fresh mint leaves. You can also try this LIVESTRONG.com recipe for a Watermelon Fruit Pizza, a quintessentially summery snack. Use a large, round watermelon slice as the "crust"; then top with vanilla yogurt, assorted berries and mint leaves.