Fresh tuna steaks are packed with protein and cook quickly in a frying pan, making them an ideal choice for a healthy dinner on short notice. Tuna is best when seared in a pan at high heat, allowing a nice crust to form while protecting the tender, silky quality of the meat in the center. Pan-fried tuna is also delicious cold, so store leftovers in the refrigerator to toss into salads and sandwiches the next day.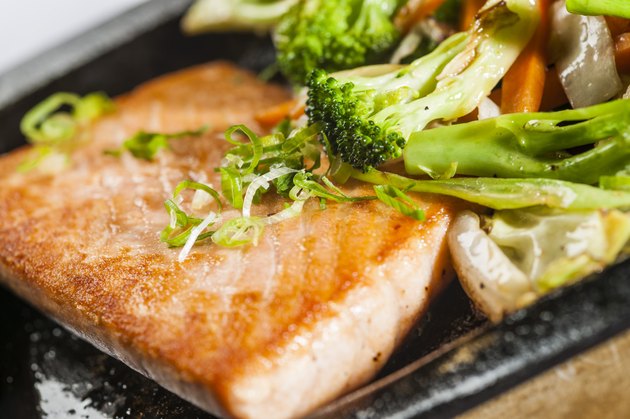 Preparation
If your tuna steak is frozen, be sure to thaw it completely before using. If you've got the time, allow the tuna to thaw slowly in the refrigerator overnight. For a quick thaw, place the tuna steak in sealed plastic bag in a bowl of cold water. Change the water every 20 minutes or so until the fish is thawed. Tuna steaks have a thick strip of dark meat that run through them, and while it is perfectly safe to eat, it can have a relatively strong flavor. If you're not a fan of this flavor, look for tuna steaks with minimal dark meat or remove the strip before cooking. Do not wash or rinse the tuna before cooking. Simply pat it dry with a paper towel to encourage the steak to brown and develop a nice crust once it hits the frying pan.
Flavorful Additions
Tuna steak is wonderful seasoned simply with salt and pepper, but quickly pan-frying it opens up a number of flavor options. Try sprinkling the the fish with dried herbs and spices like parsley, thyme, dill or garlic powder. Draw inspiration from Asian cuisine and coat the steak with a layer of sesame seeds, which will become fragrant and flavorful once cooked. Look for spice rubs specially formulated for pan-searing tuna steaks at grocery and gourmet food stores.
Cooking Instructions
Drizzle oil in heavy-bottomed skillet over medium-high heat. When the oil begins to shimmer, place the tuna steak in the skillet. Cook the tuna steak until a nice crust forms, about three to four minutes per side for medium-rare. The USDA recommends cooking all fish until it is opaque all the way through for safety reasons, but many cooks prefer their tuna steaks to remain pink or red in the center. You can cook the tuna well done, but it may become tough and dry. Avoid overcrowding the pan, which will cause the tuna to steam instead of sear. If necessary, cook the steaks in several batches.
Serving Suggestions
Tuna steaks are plenty filling, so serve them alongside sauteed or steamed vegetables for quick, healthy meal. Try cutting the steaks across the grain into thin slices as a protein-packed topping for green salads. Tropical-inspired salsas with ingredients like mango, pineapple and red onion create a light yet filling dish.