Although morbid obesity can go paired with joint pain and physical limitations, there are various exercise machines that you can safely use to improve your health. You can purchase these machines for home use or you can find them at gym facilities. Although easily accessible, most home machines have a weight restriction of 350 pounds. If you weigh more than this, you can find machines with higher weight restrictions at gym facilities.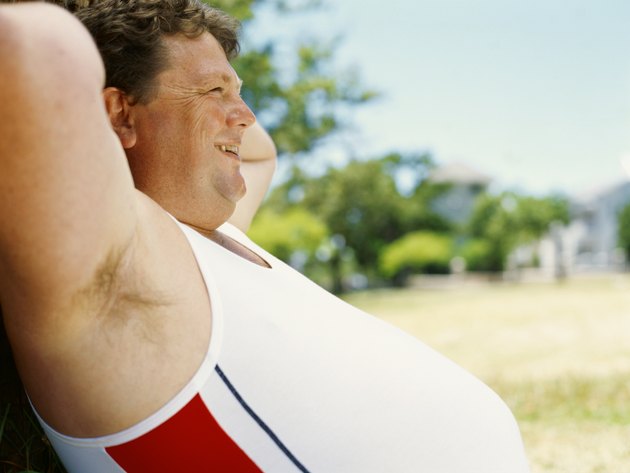 The Undefeated Treadmill
Unless gait abnormalities or joint pain are an issue, walking on a treadmill is easy and burns calories. A treadmill has a rotating band that you walk on and a display that you can set to the desired speed. Many machines have the ability to monitor your heart rate, and most feature a button that will instantly stop the motion if needed. Unlike walking outdoors, when you walk indoors on a treadmill, you don't have to deal with the elements and you can hold the handrail for extra support. You must still wear proper athletic shoes for shock absorption and support.
The Recumbent Exercise Bicycle
Unlike stationary bikes that you sit on while your feet pedal below you, recumbent bikes allow you to sit on a seat with your back against a back rest and your legs extended forward to reach the pedals. This position promotes stability, eliminates the fear of falling and minimizes the impact on your knees. Also, you're in control of the resistance and the range of motion, so you can stop the exercise at any time. Ideally, use a bike with a rotating seat that locks into place so you don't have to step onto the machine.
The Upper-Body Ergometer
An ergometer is a bike for your hands. Your hands grasp the rotating handles of the machine and mimic the motion that your feet would normally make while cycling. You're in charge of the resistance and the range of motion and also have the option of cycling backward, instead of solely going forward. An upper-body ergometer is ideal if you have limited lower-body mobility. This machine can improve your flexibility, cardio fitness and strength. Similar to the recumbent bicycle, your balance isn't challenged because you're sitting during the exercise.
The Seated Stepper
The seated stepper is another machine that allows you to perform non-weight-bearing exercise. It's easy on your joints and back and can strengthen the muscles in your lower body and improve your balance. The exercise mimics the motion you make while climbing stairs, only in a stable, seated position. When your feet push on the pedals, the hydraulic cylinder system of the machine responds to the pressure and takes you through the range of motion.