Black raisins and white raisins, derived from dried purple or white grapes, are top-notch snacks when it comes to nutrition. Not only are raisins healthy, they're convenient and inexpensive. Just 1/4 cup of these small, wrinkly fruits gives you a daily recommended serving of fruit. Black and white raisins yield about the same amount of nutrients. They are also low-calorie and contain antioxidants, fiber and minerals.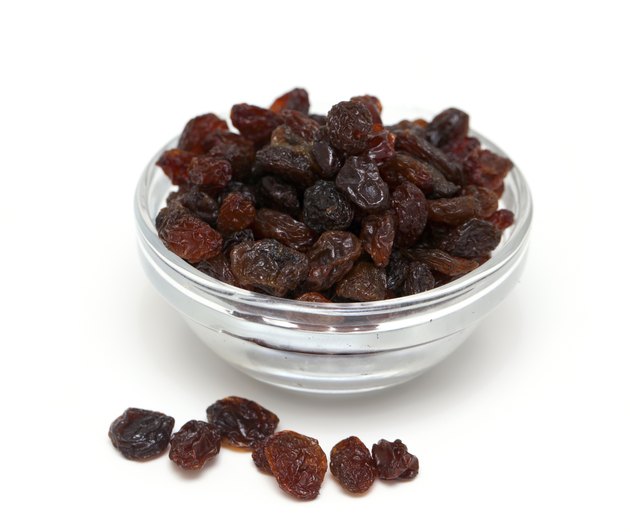 Raisins and Antioxidants
Antioxidants play a role in slowing down the aging process by repairing cells in the body and strengthening the immune system, according to the Harvard School of Public Health. The Oxygen Radical Absorbency Capacity score is a way of measuring antioxidants in fruits and vegetables. The higher the score, the more antioxidant activity is in the food. Raisins scored the highest amount of antioxidant potential with 2052 ORAC units in 1/2 cup, according to Doctor Tory Parker of Brigham Young University. According to a study published in "Journal of Agricultural and Food Chemistry" in October 2007, golden raisins have a higher antioxidant capacity than sun-dried black raisins do.
Calories and Fat
The calories in 1/4 cup of white and black raisins are about the same, with 125 in white and 123 in black raisins. Both white and black raisins have negligible amounts of fat. Their low calorie and zero fat content make raisins a healthy, on-the-go snack option.
Fiber and Carbohydrates
If you're counting carbs, raisins may not fit into your diet plan. Both white and black raisins have almost 33 grams of carbohydrates in 1/4 cup. They also provide 1.5 grams of fiber per serving, which can help you get your recommended daily fiber intake. The American Heart Association recommends that adults eat a minimum of 25 grams of fiber per day to help prevent stroke and heart disease.
Serving Ideas
When preparing breakfast, top your cereal or oatmeal with raisins to get one daily fruit serving. Flavor your garden salad and yogurt with them or add raisins to any muffin, cake or pancake batter for healthy antioxidants. Mixing raisins with peanuts, cashews, almonds and other dried fruits or seeds gives you a healthy, between-meal snack.