A Long Island iced tea is a mixed alcoholic beverage that contains gin, rum, tequila, triple sec and vodka. Long Island ice tea contain no tea but is also made with sweet and sour mix and a splash of cola. Because of the large number of ingredients, a Long Island iced tea can be high in calories.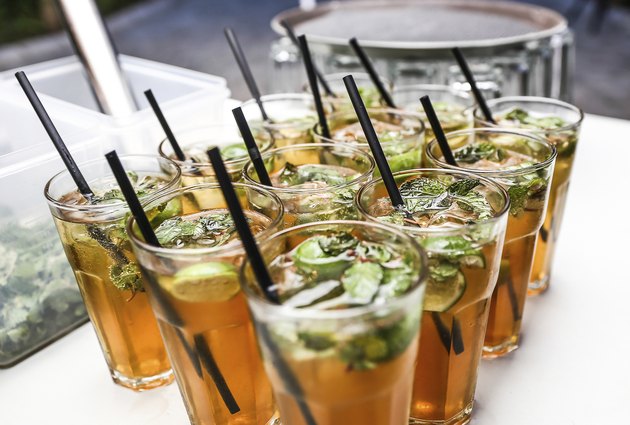 Calories
This mixed drink is calorie-dense; a 8.3 ounce Long Island iced tea contains 276 calories. That amount comprises about 14 percent of your daily calories, based on a 2,000-calorie diet. It's also more calories than many other beverages contain; an 8.3 ounce serving of this drink provides as many calories as 22 ounces of regular cola.
Carbohydrates
A considerable amount of the calories in a Long Island iced tea come from the carbohydrates the drink contains. Each 8.3 oz. drink contains 33 grams of carbohydrates. That amount is more than twice what a slice of bread provides, so this drink is not a good choice for low-carbohydrate dieting. Because of the sugar-sweetened ingredients, all the carbohydrates in a Long Island iced tea come from sugar. Consuming too much sugar can cause tooth decay. Additionally, research published in the August 2004 edition of "The Journal of the American Medical Association" indicates that consuming sugar-sweetened beverages regularly can increase your risk of diabetes and obesity.
Alcohol
Alcohol is a calorie-dense nutrient, with 7 calories in each gram -- just 2 fewer calories than a gram of fat provides. Each 8.3 ounce serving of a Long Island iced tea contains 20.5 grams of alcohol. Thus, alcohol provides 144 calories, or 52 percent of the total calories in this beverage.
Additional Nutrients
A Long Island iced tea does not contain any dietary fat. This nutrient provides energy, promotes satiety and aids in proper growth and development. This drink also contains no protein. Protein is essential for the building and repair of your body's muscles and other vital tissues. Long Island iced tea is not a significant source of any vitamins or minerals.