Although bananas make a healthy snack, you can have too much of a good thing. Binging on any food can lead to weight gain and poor nutrition, so moderation is important. Although no official consensus exists as to how many bananas are "too many," if you experience side effects from eating bananas or if the number of bananas you eat affects your nutritional balance, then you're eating too many.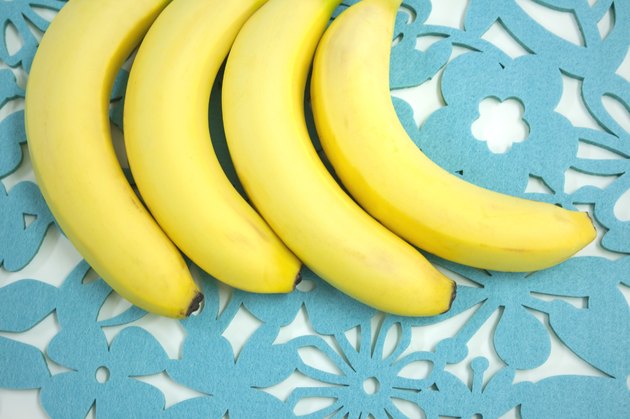 Nutritional Information
Bananas are nutritious fruits packed with vitamins and minerals. One medium banana contains nearly 10 percent of the potassium you need for an entire day, which is important because most Americans don't get enough potassium in their diets. Bananas are also rich in vitamin C and fiber and low in energy density, which means they fill you up with relatively few calories, which helps you maintain a healthy weight.
Calories in Bananas
A medium banana of 7 to 8 inches contains about 105 calories, which is slightly more than 5 percent of a 2,000-calorie diet. A large banana of 8 to 9 inches contains about 120 calories, which is 6 percent of those caloric needs. This may not be much, but if you eat enough bananas and go over your daily energy needs, you will gain weight. For every 3,500-calorie surplus, you gain about 1 pound of body fat. This means you would have to eat about 33 medium bananas or 29 large bananas in addition to your usual diet.
Nutrient Imbalance
For your body to function at its best, it needs a broad assortment of nutrients. If bananas dominate your diet, your stomach has little room left for other foods. In a 2,000-calorie diet, the U.S. Department of Agriculture's MyPlate guidelines recommend that you get 2 cups of fruit per day, which equals about two large bananas. This leaves room for vegetables, grains, protein and dairy or dairy alternatives, which the guidelines also recommend you eat. Even within food groups, variety is important. You should eat fruits in assorted colors such as blue, orange, green and red. Different colors indicate different nutrients, so variety helps you meet a range of needs.
Fiber Content
Each medium banana contains about 3 grams of fiber, which contributes to the 28 grams you need each day in a 2,000-calorie diet. This is a good thing, because fiber helps digestion. Moderation is paramount, however, because consuming large quantities of fiber can cause gas, abdominal cramps and bloating, according to MedlinePlus. In addition, excessive fiber intake may interfere with the absorption of minerals such as calcium and iron.