A 10K refers to a 10-kilometer distance for runners, usually indicating a race distance. Runners or elite athletes will complete the 6.2-mile race in 30 minutes or less, meaning they are running about a five-minute-mile pace or faster. Joggers or casual runners will hit the finish line at a range of slower times -- generally between 45 and 75 minutes, depending on the fitness of the jogger.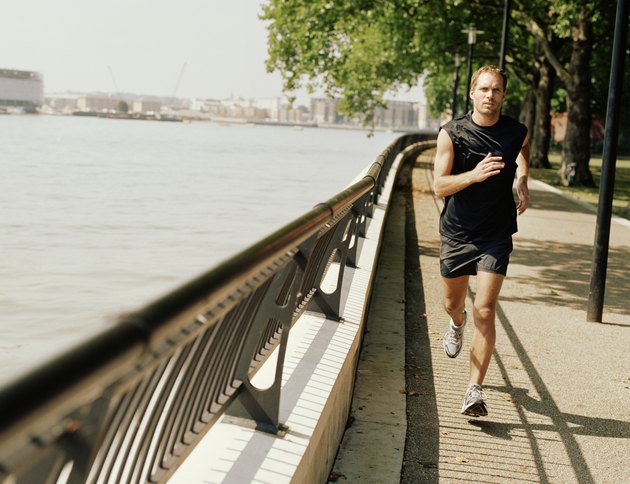 World Records
As of 2013, the fastest time recorded in a 10K race is by Ethiopian Olympic champion Kenenisa Bekele, who ran the distance in 26 minutes, 17.53 seconds Aug. 26, 2005, at the Memorial van Damme meet in Brussels, Belgium. The record for women is held by Wang Junxia of China. She set the standard of 29 minutes, 31.78 seconds at a meet Sept. 8, 1993 in Beijing, China.
Average Time
The average time for runners to complete a 10K race generally falls between 50 and 70 minutes. The median time for American 10K racers in 2012 was 55:52 for men and 1:04:37 for women, according to Running USA. A 1:02 finish in a 10K race, for example, requires a pace of 10 minutes per mile. Extremely fit runners can run 7-minute miles or quicker, while weekend joggers might fall in the 10- to 14-minute range for their miles.
Typical Times
Depending on the training regimen and goals, a runner who is extremely fit but not a professional elite runner could strive for a typical 10K time in the 43- to 50-minute range. An avid jogger who might not train for specific speed goals or might not be as naturally fast could work to complete a 10K in about 62 to 80 minutes or more. Each runner has different and goals and abilities. Therefore, times will be typical within each type of running group.
Considerations
The type of course for the race will affect 10K times. More challenging races that include many hills, such as the Bolder Boulder, an annual Memorial Day race in the hills at high altitude in Colorado, will yield slower times than a flat sea-level course. Cross-country layouts that include a variety of terrains such as grass fields, dirt paths with tree roots and streams also will generally slow a runner's typical 10K time.