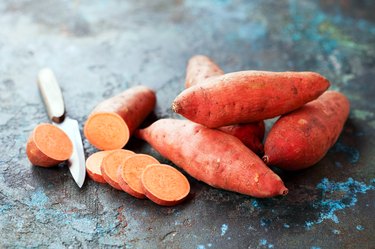 A staple of many Thanksgiving side dishes, the sweet potato is delicious and ranks as one of the healthiest vegetables, boasting numerous nutrients, including fiber. Fiber aids in the absorption of cholesterol and helps reduce the risk for cardiovascular disease.
Soluble Fiber and Cholesterol
Soluble fiber plays a key role in lowering cholesterol. The consumption of foods that are high in fiber is connected to less cardiovascular disease and lower body weight, and it aids gut health, according to research published in April 2013 in ​Nutrients​. Fiber consists of numerous components like cellulose, hemicellulose, lignin and pectin and is broken down into soluble and insoluble fiber.
If you're looking to decrease your cholesterol levels, the National Lipid Association recommends eating foods that are high in soluble fiber, the type found in plant foods. This includes starchy vegetables such as sweet potatoes. The association notes that because soluble fiber is not absorbed into the intestines, it can help remove cholesterol from the body by binding it in the intestines.
"The best way to look at how soluble fiber works is that it acts like a gel, binding the cholesterol that you eat," says Sandra Allonen, MEd, RD, a dietitian with Beth Israel Deaconess Medical Center in Boston.
"It gets rid of it through the large intestine and helps slow down digestion, as well as regulate your blood levels, whereas insoluble fiber moves through your digestive system acting more like a broom. It increases stool bulk and helps prevent constipation, hemorrhoids, diverticulosis and colorectal cancer."
In addition, psyllium and pectin, two other forms of water-soluble fiber, are most effective in lowering low-density lipoprotein (LDL) cholesterol, known as the bad type, without affecting high-density lipoprotein (HDL) cholesterol, the good type, reports ​Nutrients​.
Harvard Medical School says that the majority of Americans consume less than one-half of the daily recommended amounts of fiber. Certain low carbohydrate diets, like keto, Atkins and the Whole 30, eschew certain foods that are fiber-rich.
Most adults consume 10 to 15 grams a day, when the recommended daily amount for adults up to age 50 is 25 grams for women and 38 grams for men. For adults older than 50, women should consume daily at least 21 grams, and men 30 grams, Harvard Medical School says.
According to the National Lipid Association, foods that will help increase your soluble fiber intake and keep your cholesterol levels at healthy levels, in addition to protecting against heart disease and diabetes, include:
Whole grains, including oatmeal and oat bran
Beans
Apples and pears
Brussels sprouts
Broccoli
Blackberries, raspberries and strawberries
Flax or chia seeds
Starchy vegetables like green peas

Belonging to the morning glory family, the sweet potato is known for its saffron-colored flesh and copper skin. According to the Harvard T. H. Chan School of Public Health, sweet potatoes are packed with beta carotene and anthocyanins — a flavonoid that has antioxidant effects.
Calories: 223
Carbohydrates: 51.3 grams

Sugars: 14.6 grams
Total dietary fiber (soluble and insoluble): 8.2 grams
To benefit from the sweet potato's fiber content that helps lower cholesterol, Allonen suggests either baking or boiling it, and also eating the skin.
Another way to eat sweet potatoes, according to the Harvard T.H. Chan School of Public Health, is to cut a baked sweet potato in half and top it with other fiber-rich vegetables and legumes, such as beans, broccoli or, for a little flavor, crumbled feta cheese. Another tasty method is to cube the sweet potatoes, add 2 tablespoons of olive oil, roast them for 10 minutes and then add toasted pecans.