Whether you prefer them baked, mashed, roasted, or part of a hash or casserole, sweet potatoes are a nutritional godsend thanks to a host of benefits that rival even the most complete multi-vitamin.
Just one cup of baked sweet potato, according to Cynthia Sass, RD, CSSD, NYC and LA-based performance nutritionist, provides nearly half of your daily vitamin C needs. And that same portion "also supplies 400% of your recommended daily intake of vitamin A. Both of which are vital for immune function, lung, eye and skin health," according to Sass. That's a pretty special spud, especially when you compare it to regular potatoes.
To get the most out of your sweet potatoes, Sass recommends choosing organic ones (especially if you are eating the skin) and to look for sweet potatoes that are "firm with no cracks, soft spots or bruises." She also recommends to store them at room temperature and use within a week or two of purchasing.
Does Baking Sweet Potato Make It Lose Nutrients?
If you are a fan of baking your sweet potatoes, know that baking them, according to Sass, does diminish some nutrients, but she adds that "it certainly does not cancel them out." The best way to prepare your sweet potatoes and maximize their nutrient power? By steaming sweet potatoes in a basket over a pot of boiling water on the stove for twenty or so minutes or until soft. If you don't have a steaming basket, you can go ahead and boil them.
According to NutritionFacts.org, "Sweet potatoes best retain their antioxidant power when boiled; antioxidants in both the peel and the flesh are greatly reduced when baked, compared to boiling or microwaving. The peel contains almost ten times the antioxidant power as the flesh and can be left on in many preparations."
For our favorite sweet potato recipes, keep scrolling.
Curry Sweet Potato and Rice Salad
If you are wondering how to cook cubed sweet potatoes, you can sauté them like this recipe recommends, along with some onion, on a stovetop for 6 to 8 minutes. If you have more time though, you can bake sweet potato cubes in a 400-degree oven for 20-30 minutes — just drizzle them with a little olive oil and salt beforehand. We love the naturally sweet, caramelized flavors that emerge from sweet potatoes after baking them.
In addition to the antioxidants in sweet potatoes that protect our skin and cells from damage, Sass says that one cup of sweet potato delivers "a third of your daily needs for manganese, a mineral that helps produce collagen and promotes skin and bone health."
Harissa Sweet Potato Fries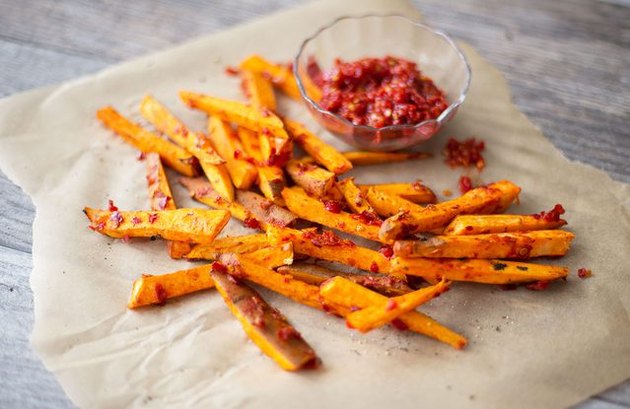 While the sweet potato may have seemed to explode in popularity recently, the reason more people are eating them is because more people are following gluten-free and grain-free diets. They've discovered that sweet potatoes provide a "nutrient-rich carb alternative," says Sass.
These "fries" hit the right note thanks to being baked, not fried. Just watch your portions: For most people, stick to a half of a cup of cooked sweet potatoes recommends Sass. Adding, "This should be combined with about two cups of non-starchy veggies, a portion of lean protein, and a source of healthy fat." So make sure this sweet potato recipe remains a side, rather than a meal.
Spicy Tempeh, Red Pepper and Sweet Potato Hash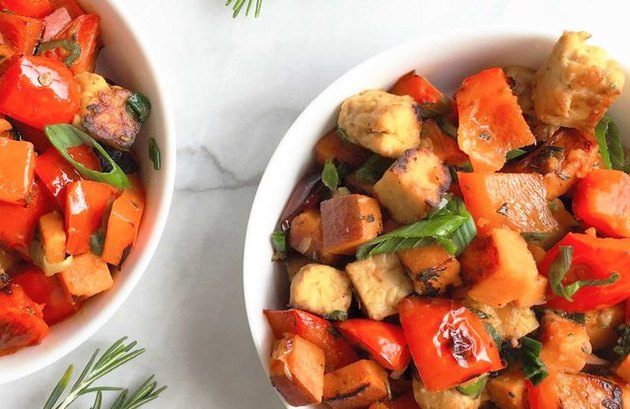 Because tempeh is a mild, nutty-flavored protein, the dish's flavor profile goes full spectrum, from sweet to spicy thanks to the sweet potatoes and the jalapeños.
Cheesy High-Protein Twice-Baked Sweet Potato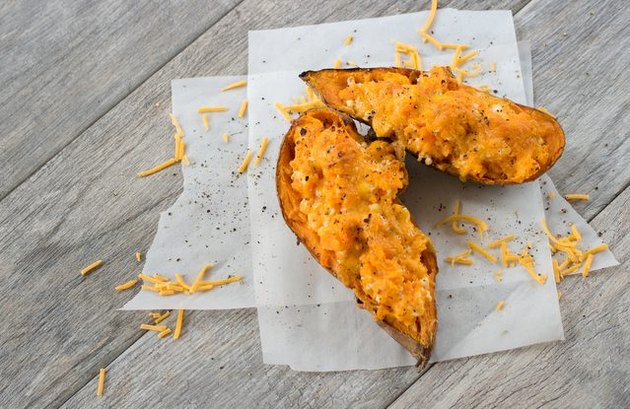 "One cup of sweet potatoes with the skin provides 950 milligrams of potassium. That's more than twice the amount in a medium banana," says Sass. Why is potassium so important? "It supports heart function, muscle contractions, prevents muscle cramps, and helps maintain muscle mass," she says.
In addition to delivering all the goodness of sweet potatoes, this recipe calls for low-fat versions of cheddar and cottage cheese which increases the calcium intake while reducing the amount of sodium and fat content.
Sweet Potato Shepherd's Pie
This sweet potato recipe, inspired by shepherd's pie, is a must-have winter comfort food, especially when it's dark, cold and rainy. This meal fits into Sass's recommendation to pair sweet potatoes with other food groups to create a healthy macronutrient balance. Add lean meat and plenty of vegetables to your meals to create a satisfying and balanced lunch or dinner.
Another benefit of sweet potatoes? Sass says, "The fiber content of sweet potatoes makes them a slow-burning starch, meaning they provide even, sustained fuel, rather than an energy spike followed by a crash. Just one cup of baked sweet potato contains about six grams of fiber, which is more than a quarter of the daily recommended minimum."
Sweet Potato Maple Pecan Breakfast Cookies
Satisfy that sweet tooth in the morning with this moist, sweet potato-based cookie that won't wreck your diet. And while we don't recommend eating these for breakfast every day, you will get a beta-carotene boost first thing in the morning thanks to the orange-hued vegetable.
Sweet Potato Protein Hash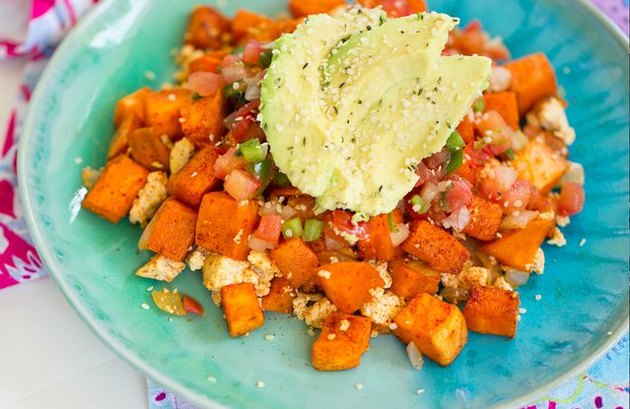 This sweet potato hash can be prepped as a bigger batch ahead of time, saving you crucial meal-making minutes, especially when you're in a hurry. Store the spiced, baked sweet potato cubes in an airtight container all week and simply pull them out when you are ready to use them.
Pop a serving of the sweet potato hash into a sauté pan and once warmed, add your favorite protein like tempeh (if you are keeping it vegetarian) or an egg. Add hemp seeds for an extra boost of omega-3 fatty acids that reduce inflammation, your risk of heart disease, lower cholesterol and blood pressure all while aiding in memory and cognition.
Purple Sweet Potato Hummus
Breakfast Nachos With Sweet Potato Waffle Fries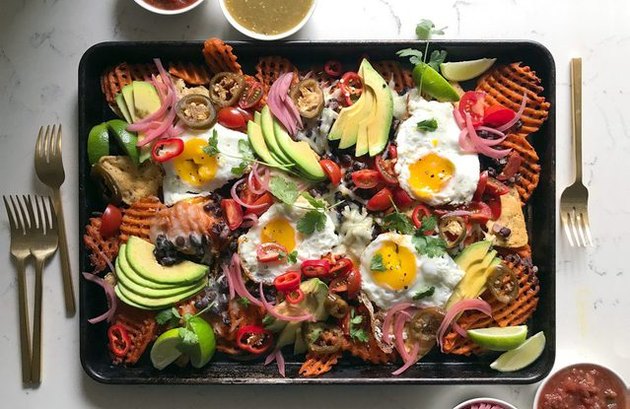 If you are looking for a great way to jump-start the day, look no further than these breakfast nachos that feature sweet potato waffle fries as a base. Thanks to the slow-burning fiber of the sweet potatoes, you'll avoid that mid-morning energy crash.
Building from there, add bacon, eggs, and black-beans for hunger-curbing protein. Slices of avocados, while tasty, provide a ton of health benefits. Medical News Today details that this green-colored fruit "supports skin health, enhances the absorption of fat-soluble vitamins, minerals and other nutrients, and may even help boost the immune system."