As you age, certain body parts hold onto fat deposits more than others; the upper arms is a prime area where this happens. This can create unattractive bulges when you wear swimsuits, t-shirts or tank tops. While it's challenging to lose weight at any age, you can say goodbye to your flabby arms in your late forties with cardio workouts, resistance exercise that target your upper arms, and a healthy diet.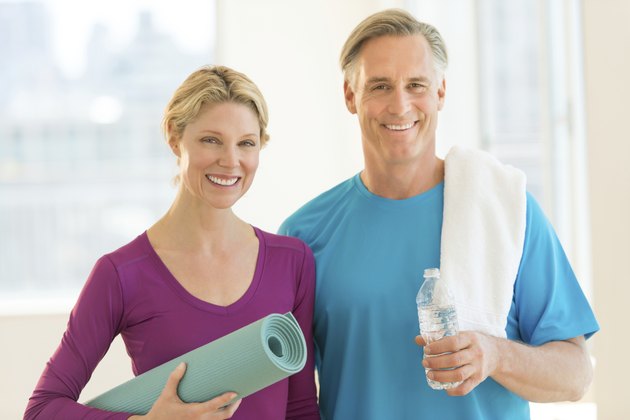 Step 1
Perform a moderate-intensity aerobic exercise three to five times per week for 30 to 90 minutes per session. Cardiovascular training helps boost your metabolism in addition to burning calories. This is win-win for weight loss, as your metabolism naturally slows down as you enter your 30s and 40s. Choose activities that you enjoy to keep yourself motivated. Try brisk walking, cycling, swimming laps or taking a challenging fitness class that gets your heart pumping and body moving.
Step 2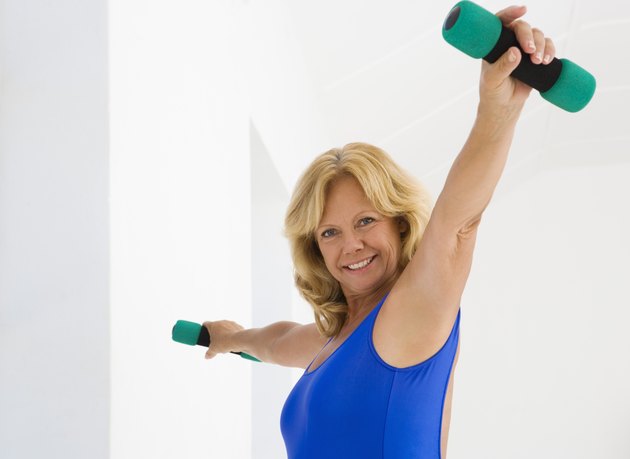 Lift weights at least three times per week. According to Harvard Health Publications, strength training is good for weight loss because it helps to raise your metabolism, which can be more difficult as you approach 50. Workout your upper body during one session and your lower body the next session. This will help keep your workout balanced and challenge your entire body. Include exercises that target your upper arms, particularly your triceps and biceps muscles. Effective exercises to help get rid of your flabby arms are overhead triceps extensions, bicep curls, lateral arm raises, shoulder presses and triceps dips.
Step 3
Eat a healthy and balanced diet to lose weight from your entire body. Reduce your daily caloric intake by 250 to 500 calories per day if you are currently over-eating or are considered overweight. This will help you lose 1/2 to one pound of weight per week -- not including what you'll lose from exercise. Plan your diet around whole, unprocessed and nutrient-dense foods such as fruits, vegetables, meat, fish, nuts, low-fat dairy products and whole grains.
Step 4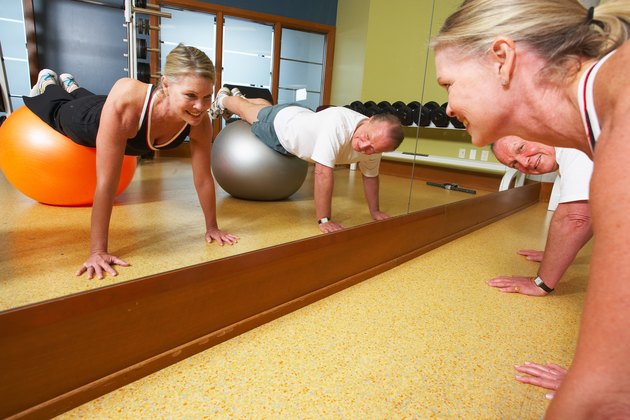 Add pushups to your daily routine; even a few per day can help whip your upper arms into shape. Aim for at least five to 10 reps and three sets. Begin on your hands and knees with your fingers facing forward and your hands shoulder-width apart. Straighten one leg out behind you followed by the other leg so that you are resting your weight on your flexed feet and hands. Slowly lower your body toward the ground as far as you can manage without touching the ground. Push yourself back up slowly, keeping your body in a straight line from head to toe. If necessary, do pushups on your knees for an easier exercise until you build enough upper body strength to do them the standard way.