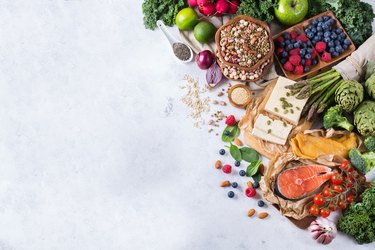 Carrying excess weight around the waistline is detrimental in a number of ways. Any time you have fat in the abdominal area, you are at risk for chronic diseases such as Type 2 diabetes and high cholesterol. Pain in the lower back has a tendency to crop up, as well, because of the extra weight pulling your pelvis forward. Aside from the physical effects, your self-confidence levels run the risk of being depleted. The best ways to reveal a slim waist revolve around diet and exercise.
Cut Back on Calories
The only way you can lose weight in one area is by losing weight throughout your entire body. Do this is by cutting back on your daily intake according to Harvard Health Publishing. A reduction of 500 to 1,000 calories a day is a good standard to go by. This leads to about 1 to 2 pounds of weight loss every week. But do not let your daily caloric intake fall below 1,200 for women and 1,500 for men.
Choose Your Foods Wisely
The type of food you eat needs to be addressed. You are best served basing your diet on low-energy-density foods according to the Centers for Disease Control and Prevention. Energy density is the amount of calories a food has per given volume. Foods with a high energy density, such as french fries, ribs and cheesecake, should be avoided. Instead, eat foods with a low energy density, such as fruits, vegetables, lean meats, whole grains, fish and low-fat dairy products.
Integrate Snacks Into Your Day
Snacking is not as bad as you may have been led to believe. Integrating snacks into your day actually keeps your hunger under control and makes you less likely to overeat at mealtime. The key is to keep these snacks small enough just to take the edge off your hunger. An apple with five to 10 almonds is a quick, healthy snack option.
Be Mindful of Your Liquids
Excess liquid calories add up just as food calories do. Beverages such as soda, fruit punch, beer, wine, dessert coffees and slushies all are calorie heavy and should be eliminated when trying to reduce your waist size. Water is a better option because it contains zero calories, hydrates the body and helps flush out toxins. Drink a glass right before your meals to reduce your appetite.
Perform Cardiovascular Training
Cardiovascular exercise such as running, biking and elliptical training burns calories and further produces a caloric deficit in your body. The most important thing is that you exercise regularly and do something you enjoy. Health.gov's Physical Activity Guidelines for Americans recommends getting 150 to 300 minutes of physical activity a week for the best weight-loss results — especially if you lean toward the 300-minute mark. Accumulate this time in smaller bouts performed throughout the day if it is more convenient.
Waist Exercises With Weights
Strength training is a significant way to slim the waistline and a big part of waist fat reduction. When you lift weights, you build muscle. By adding muscle, you increase your metabolic rate and burn more calories over a 24-hour time frame. Your best bet is to do a full-body workout to target as much muscle as possible. Perform exercises such as bench presses, shoulder presses, bent-over rows, triceps extensions, twist curls and squats. Two or three training sessions a week is sufficient.
Tone Your Waistline
Instead of doing one exercise over and over again, perform multiple exercises with different movement patterns to work your waist area fully. This will not cause much fat loss, but it will tone and tighten your waistline as you lose weight. Do exercises such as reverse crunches, hanging leg raises, bicycle maneuvers, back extensions and crunches. Aim for three or four training sessions a week.