The experience is common to smokers and many non-smokers. That first cigarette, whether it leads to a second one or to lifetime abstention, brought on coughing, reddened eyes and nausea. The many chemical agents found in cigarette smoke easily trigger symptoms such as nausea, though habitual smokers are less likely to experience the effects over time. Nonetheless, whether you feel nauseated is not an indication of the cigarette's effects on your internal organs. Even a hardened smoker who experiences no nausea increases the chances of cancer, emphysema and heart disease.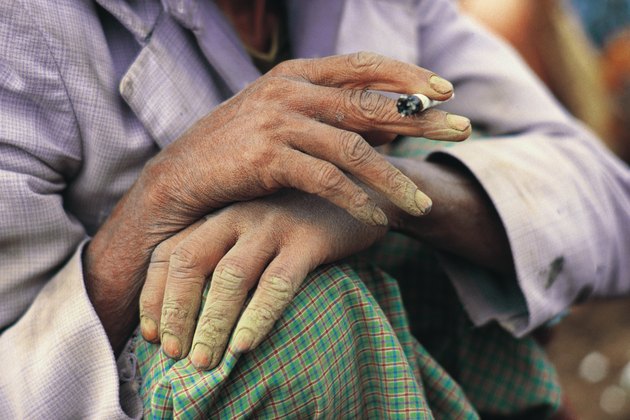 Effects of Smoking
Despite its ubiquity in popular culture, smoking a cigarette results in an extensive array of negative consequences in your body. Given these many internal repercussions, it's likely that you'll notice a sense of nausea if you aren't accustomed to smoking. Every inhalation of cigarette smoke delivers tar, carbon monoxide and nicotine to your body. Nicotine stimulates your central nervous system, which in turn raises your blood sugar and gives the impression of a boost of energy. The nicotine also tightens your blood vessels, which can eventually cause lasting harm to your arteries. Because your body releases corticosterone, the effects of nicotine are diminished over time, leading smokers to crave increasing numbers of cigarettes. In addition, the nausea that follows smoking is likely to decrease as the smoker becomes inured to the sensation. However, the negative impact of the nicotine and other substances do not diminish whenever the nausea subsides.
Withdrawal
Quitting dramatically reverses your tendency to cardiovascular diseases. Following that last smoke, you may notice symptoms such as nausea -- not unlike what you experienced after your first cigarette. Because cigarettes are physically as well as mentally addictive, your body will go through a range of physical symptoms throughout the withdrawal process. These symptoms may range from bothersome to painful, but they will usually disappear completely within weeks or months. Besides nausea and cramps, you may notice tingling at your extremities, sweating, headaches, a sore throat and coughing. Aside from the physical symptoms, withdrawal often involves insomnia, a short temper, confusion, difficulty concentrating, irritability, restlessness and anxiety or depression.
Secondhand Smoke
If you spend enough time in an enclosed space with smokers, you may start to notice the effects of secondhand smoke. Just inhaling air that's polluted with cigarette smoke delivers the carcinogenic ingredients of a cigarette into the bloodstream of anyone standing by. As a non-smoker, you're more likely to react violently to the chemicals in the tobacco smoke, making symptoms, such as nausea, more likely. According to the American Cancer Society, the smoke given off by a cigarette contains 4,000 chemical compounds, of which, more than 60 have been linked to cancer.
Individual Variation
The degree to which smoking induces nausea varies from one person to the next. According to a 2008 study carried out by the Nicotine Research Laboratory of the University of Michigan, genetic variation determines your tendency to feel queasy or delighted when you first take a puff. Individuals with a particular variation of CHRNA5, the nicotine receptor gene, are less likely to feel nauseated and more likely to become addicted to nicotine.