Kidney infections can affect one or both of your kidneys, causing aches, fever, chills, frequent urination and nausea. Treatment for this type of urinary tract problem generally consists of antibiotics, which you may need to take for several weeks. Although dietary factors aren't known to cause or prevent kidney infections, eating well and staying hydrated can strengthen your body's ability to resist infections, heal well once an infection strikes and potentially guard against bladder infections, which can lead to kidney infections if left untreated.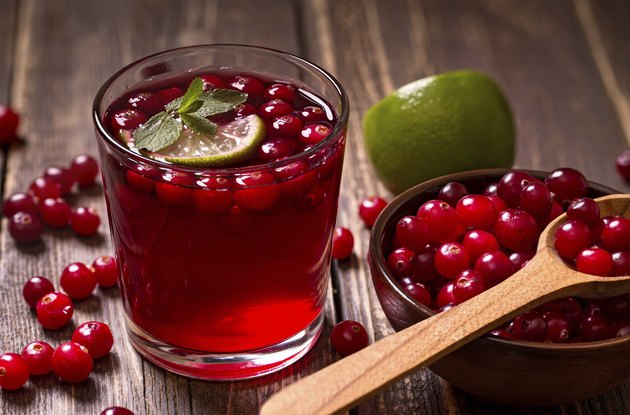 Fluids and More Fluids
Staying well hydrated is important when you have a kidney infection because fluids allow your body to flush out harmful bacteria through urine. The University of Maryland Medical Center recommends drinking plenty of fluids and urinating frequently as a useful way to stave off recurrent infections. If you've been vomiting, consuming water or other fluids, such as clear soups, gelatin and juices, can help prevent dehydration. Juices, smoothies and soups also provide nutrients and calories, which is important for restored wellness and energy if your appetite is low.
Berries and Berry Juices
Berries are rich sources of antioxidants, which support your body's ability to resist and heal from infections and guard against inflammation. They also supply water and potassium, which support your hydration and electrolyte needs. You lose electrolytes, including the potassium prevalent in fruit, through vomiting. Cranberries, blueberries and lingonberries -- European cranberries -- may provide exceptional benefits, says University of Maryland Medical Center, because of natural compounds known as tannins that may prevent E. coli bacteria from sticking to cells in your urinary tract, making way for infection.
Energizing Whole Grains
Without enough carbohydrates, your organs, including the kidneys, cannot function properly. Carbs also provide glucose, which is your body's main energy source. To fight fatigue and reap plentiful nutrients, such as B vitamins and the antioxidant selenium, rely on whole grains. If you've been nauseous, choose mild-tasting sources, such as plain, whole-grain toast, oatmeal or crackers. Other nutritious options include quinoa, wild rice, brown rice and air-popped popcorn.
Cultured Dairy Products
Not all bacteria are bad. The healthy bacteria known as probiotics in cultured dairy products, such as yogurt and kefir, may protect against urinary tract infections, reports the medical center. They also provide valuable amounts of protein, which plays a key role in immune function. For probiotic benefits, consume yogurt or kefir, a yogurtlike drink. Such foods contain active cultures, such as lactobacilli and bifidobacteria. To make your yogurt into a nutritious snack or mini-meal, top it with berries and whole-grain granola.