Rice contains versatile complex carbohydrates that can help provide your body with fuel for energy. Of the numerous varieties of rice, the two people consume the most are white and brown. If you are watching the amount of carbs you eat, for either dietary or medical reasons, you'll want to keep track of how much rice you eat at each meal.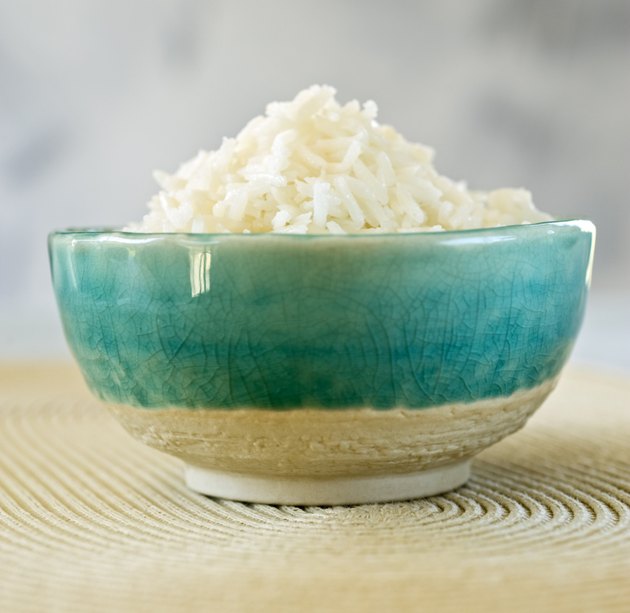 Step 1
Locate the nutrition label on your package of rice. If you purchased rice from a bulk bin, there is usually a nutrition label on the bin itself. Read the label to determine the amount of carbohydrates per serving of rice.
Step 2
Check the portion size. This can be easy to overlook and cause you to eat more carbohydrates than you realize. One portion of rice is equal to 1/2 cup cooked, for both white and brown.
Step 3
Measure out the portion size of the rice so you have an accurate count of how many carbohydrates you will eat. Cooked rice can be measured easily with measuring spoons or a measuring cup.
Step 4
Calculate the amount of carbohydrates in the rice that you are eating. A half cup of cooked rice contains 22 grams of carbohydrates. Eating 1 cup of rice would mean that you are consuming 44 grams of carbohydrates.
Step 5
Practice measuring the rice at home to become accustomed to what 1/2 cup of rice looks like. Then you can properly eyeball it when you're out at a restaurant or dinner party. Compare the serving to your hand; about one rounded handful is equivalent to 1/2 cup when measuring foods such as rice.