Cod is one of the most readily available and affordable types of fish. It is easily located at your local grocery store frozen in fillets or fresh at the meat counter. Simple to prepare and amazingly versatile, cod's mild-flavored lean white meat lends itself to many cooking preparations including oven roasting. If you're looking for a quick and easy meal, drizzle olive oil and fresh lemon juice onto cod fillets and bake. You'll have a lovely fish dish that's ready in just minutes.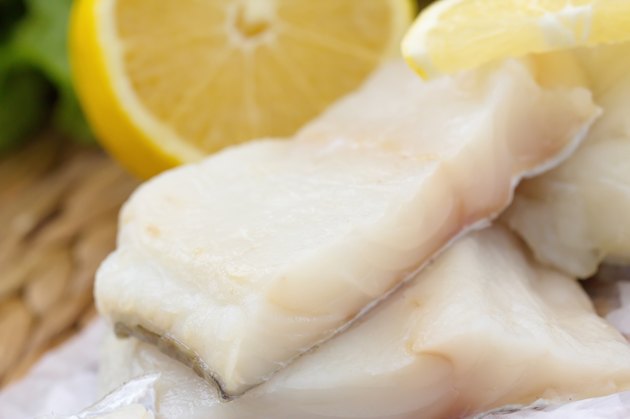 Step 1
Preheat your oven to 400 degrees Fahrenheit. Rinse the cod fillets in cold water and pat dry with paper towels.
Step 2
Arrange the cod fillets in a single layer in a shallow baking dish. Drizzle the cod with small amounts of olive oil and lemon juice. Flip the fillets to coat both sides. If desired, add additional seasonings like garlic salt, thyme, parsley or salt and pepper.
Step 3
Bake the cod for 8 to 10 minutes per inch of thickness or until the flesh turns opaque and flakes easily with a fork.
Step 4
Remove the cod from the oven and serve. Spoon some of the baked juices on top of the fish. Try pairing with a fresh garden salad, oven-roasted asparagus or fluffy white rice for a simple yet healthy meal.
Things You'll Need
Paper towels

Shallow baking dish

Olive oil

Seasonings (optional)
Tip
Top the cod fillets with breadcrumbs to add a bit of crunch to your dish prior to baking.
When purchasing fresh fish fillets make sure they have a fresh odor, firm texture and a moist appearance.
When purchasing frozen fish fillets make sure they are solidly frozen and don't have an odor. Do not purchase frozen fish fillets if there are any white, dark, icy or dry spots present.
Warning
Make sure your fish is fully cooked prior to eating to avoid a foodborne illness. Insert an instant-read thermometer into the thickest part of the fish. When the thermometer reads 145 F, it's done.