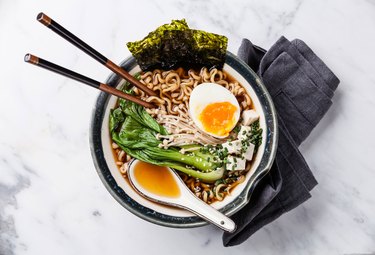 Ramen noodles provide a quick, inexpensive meal whether you're a hungry student or stuck in the office after hours. While the noodles are usually eaten straight out of the cup, mixed with hot water — your days of plain Cup Noodles are behind you!
Claudia Sidoti, principal chef and recipe developer at HelloFresh, has some must-try advice on how to bring your bowl to the next level. Whether you want to add a soft egg or toss in other nutritious ingredients, follow these steps for your best bowl of noodles.
Ramen Ingredients
Broth: vegetable, chicken, pork, beef or mushroom all work. Pick your favorite!
Spices and condiments: minced garlic, ginger, soy sauce, rice wine vinegar, toasted sesame oil, miso, dashi and togarashi
Vegetables: mushrooms, red pepper, boy choy, kale, spinach, sweet potato, kimchee or other pickled veggies
Packaged ramen noodles
Soft-boiled egg
Cooked and shredded pork, beef or chicken, optional
How to Make Ramen With Egg
Start with the ramen broth: Pour your broth of choice into a large saucepan. Add in garlic, ginger, soy sauce, rice wine vinegar and dashi, and bring the broth to a boil. After it boils, reduce it to a simmer.
Add in your veggies: Add all of your chosen vegetables. Simmer for another 10 minutes until the greens begin to wilt.
Cook ramen noodles: Add in your packaged noodles and cook according to the package instructions (usually around three minutes).
Soft-boil your egg: Bring a pot of water to a boil, add your egg to the pot and allow it to cook for five minutes.
Top Ramen noodles: Place cooked ramen into a dish. Top with preferred toppings and add the egg to your ramen. Sidoti also likes to add shredded carrots, diced scallions, miso, sesame oil or seeds, togarashi and dried seaweed. You can even add a little sriracha if you like heat, she recommends.
Customizing Your Ramen Bowl
Ramen is a customizable dish and experimentation is the best way to learn what flavors you do and don't like. Add cooked and shredded chicken, beef or pork for some extra protein. Or, if you're a vegetarian, add tofu to replace the meat. And if salt is your concern, opt for a low-sodium broth to reduce the dish's sodium content.
Tip
When it comes to toppings, Sidoti recommends adding three types of textures and flavors for the best flavor profile: crunchy, creamy and spicy.
Hot sauce will give it an extra kick, freshly grated ginger can provide a delicious flavor and a small amount of apple will add some sweetness. Your final product depends entirely on your preference. Just make sure to slurp it while it's hot!